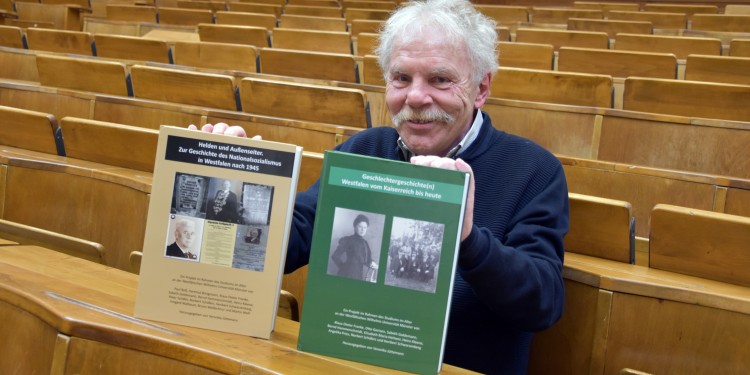 Older students as ambassadors of knowledge for the University
"Learning processes are more intensive, more long-lasting": Senior Guest Programme seminars offer opportunities for learning through research
The publication of two anthologies on the debate in Münster on the culture of remembrance with regard to Paul von Hindenburg and on gender history in Westphalia based on the example of the diaries of Anna Topheide: these are the results so far of the research carried out by Klaus-Dieter Franke. Since the winter semester of 2015/16, the 69-year-old Franke has been taking part in the so-called Senior Guest Programme at the University of Münster.
"I've only now understood how research functions," says Franke. "The reason is that during my first degree course my seminar work was based mainly on published literature. Today I work using local sources and I carry out research in archives." Between 1969 and 1975 Franke studied History and German at Münster University, where he trained to be a teacher before later taking up a position in the Centre for Practical Teacher Training in the town of Rheine. "When you retire, you need to find a new structure," he says, explaining his decision to return to his alma mater. However, he soon found that just going to lectures wasn't sufficient. "Just sitting in a lecture hall and listening wasn't enough for me." So, in the summer semester of 2016, Franke attended his first "Learning through Research" seminar. Along with eleven other participants, he spent four semesters studying the history of National Socialism (Nazism) in Westphalia after 1945.
"Learning through Science is a special form of Citizen Science," says Dr. Veronika Jüttemann, a research associate at the Senior Guest Programme contact centre and a lecturer at the University. "It is an enrichment for the University in many different ways. The older student can contribute questions to the research process which they consider to be particularly relevant, and they produce new research findings which they communicate in talks, readings, exhibitions and publications within their communities. In other words, each of them is a kind of ambassador for knowledge. So far, says Jüttemann, these seminars have been held primarily in the subject of History. "The projects in which the older students are involved are tailored to local or regional history and are related to the areas or towns where they live," she adds. "This means not only that they have easier access to sources which remain hidden from researchers who don't have the local knowledge, but also that, with the worm's eye view they take in their approach, they complement the bird's-eye view which dominates the work done nationally by professional historians."
"My personal interests are my motivation for my research work," says Klaus-Dieter Franke. In addition to writing learned articles, he was also involved in a series of talks held on four afternoons in January 2019 and entitled "History with Afternoon Coffee", in which the results were presented of the work done in the seminar "Heroes and Outsiders: How Nazism in Westphalia was dealt with after 1945". In collaboration with Münster University's Studiobühne theatre, a dramatic reading was created using the sources on which the seminar work was based, with readings being staged in Münster and various other places in the Münsterland in 2018 and 2019.
Just like younger students, older students in the Learning through Research seminars also experience the actual significance of research results – and how difficult the work involved in achieving these results can be. "One important difference, though, is the time factor," says Veronika Jüttemann. "In contrast to the younger students, the older ones are not tied to curricula. This means that the research projects can last for several semesters and take up a greater amount of time each week, enabling more detailed work to be done on bigger questions. The learning processes in these seminars are more intensive, more long-lasting, than in conventional seminars – and for both sides, too: for me as a lecturer, as well as for the students."
Klaus-Dieter Franke has been attending the "Local Democracy, 1900-2000" seminar since the winter semester of 2019/20. He is looking to study the contribution made to the democratization of the Federal Republic of Germany by a conservative and a social-democratic newspaper. Besides the research work, what is also important for Franke is exchanging ideas and views with others. "Friendships have grown up which I would not otherwise have made," he says.
The Senior Guest Programme
The Senior Guest Programme at Münster University began life in 1986, and around 2,000 older students from Münster and the surrounding area take part in it every semester. The programme is open to anyone interested and particular school qualifications are not necessary (around 20 percent of those taking part have no higher school-leaving certificate); nor are the older students tied to any regulations applying to studies and examinations. All that is required is enrolment as a guest student.
Further information