Institute of Applied Physics
AG Nonlinear Photonics – Prof. Dr. Cornelia Denz
Welcome to the web pages of the Nonlinear Photonics Group!
Here you can find news and information about our research activities, teaching and the team.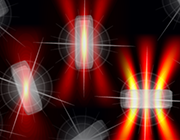 We congratulate Arthur Ashkin for being awarded with the Nobel prize for the development of the optical tweezer, our most important tool made of light for the investigation of  nano particles, bacteria and cells.
We are especially pleased that this award our actual work on measuring low forces and elasticity in cells, new methods for nano assembly and for the usage of nano particles as sensors for complex light fields comes to the fore.
Self-healing high-dimensional quantum key distribution using hybrid spin-orbit Bessel states
I. Nape, E. Otte, A. Vallés, C. Rosales-Guzmán, F. Cardano, C. Denz, A. Forbes
Opt. Express 26, 26946 (2018); doi:10.1364/OE.26.026946; PDF.