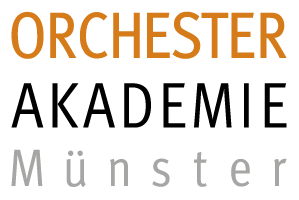 Orchestral Academy of Münster
The Orchestral Academy of Münster is a joint project by the Münster University of Music at the WWU and the Sinfonieorchester Münster.
The Orchestral Academy combines top-quality artistic instruction provided by international professors at the University of Music with first-rate orchestral practice. It is one of the world's first educational institutions for future orchestral musicians that interlinks higher education for prospective musicians with practical, on-the-job experience with a professional orchestra.
Students in the Orchestral Academy of Münster participate in a four-semester master's degree programme, during which they gain extensive specialisation and preparation for a future career as an orchestral musician. To be eligible for admission, candidates should have achieved top marks in their artistic bachelor's programmes at a college or university of music and foresee a future working in an orchestra.
Interested?
At the beginning of the winter semester, six academy scholarships for the orchestral instruments second violin, viola, double bass, percussion instruments, clarinet and trombone in the Orchestral Academy will be announced for the 2022/23 season.
The academy scholarship is integrated into the four-semester master's degree programme Music and Creativity at the Münster University of Music.
Please apply for the master's degree programme within the application period via the online portal and, in addition, for an academy scholarship. The latter can be done via e-mail to the study office/examination office.
Full details of the 2022/23 call for applications can be found here.
Other things worth knowing about the Orchestral Academy Münster:
Participating institutions

© Hubertus Wittmers

Münster University of Music at the WWU

The Münster University of Music offers some 500 study places to students in all undergraduate and graduate courses of study. Its activities range from young talent promotion through the Youth Academy, artistic and pedagogically oriented bachelor's and master's programmes, teaching degree programmes for prospective music teachers at schools of general education, to certification of musical excellence in concert examinations and artistic doctoral study.

Students are taught by some 200 instructors and receive additional training from renowned visiting artists.

As one of five higher education institutions of music in the state of North Rhine-Westphalia, the Münster University of Music enjoys an exceptional status as both an independent faculty of the University of Münster (WWU) and a legally registered school of art.

Students and instructors of the University of Music see themselves as an active and essential part of Münster's urban culture and maintain close contact with the cultural organisations of the city and the Münsterland region.

© Oliver Berg

Sinfonieorchester Münster

The Sinfonieorchester Münster (TVK-B) performs around 80 concerts per season and six music theatre productions at the Theater Münster.

In addition to the great symphonic works of the last three centuries, its repertoire includes a diverse spectrum ranging from chamber concerts, children's, choral and cinema concerts to large open-air performances. Most of the concerts take place at the Theater Münster.

In 2019 the orchestra celebrated its 100th anniversary. Its general music director is Golo Berg.

© Peter Lessmann

Study programme

The master's degree programme "Music and Creativity"

The practice-oriented musical master's degree programme "Music and Creativity" enables students to acquire advanced, musical-artistic competence. The knowledge, skills and methods taught in the programme allow graduates to independently pursue their chosen occupation at the highest (artistic) level and creatively, practically and systematically shape the development of music.

The standard duration of study for the master's degree programme Music and Creativity is four semesters.

Beyond the regular curriculum of the master's programme, Academy members may also take advantage of other programmes and events offered by the University of Music. Depending on space and availability, these can include:

Orchestral studies and training for auditions
Academy members are welcome to register for the "Orchestral studies" course. In each respective instrumental group, works and passages of orchestral literature relevant for orchestral and audition playing are analysed and trained.

By means of repertory rehearsals, students gain a broad-based knowledge of the orchestral repertory and an understanding for the overall context of their audition passages.

In direct consultation with members of the Sinfonieorchester Münster, holding mock auditions can also be arranged at short notice.

Chamber music
Academy participants can train with members of the Sinfonieorchester Münster and specialists from the University of Music in small groups to gain experience with the performance requirements of chamber music ensembles.

Orchestra projects
Academy members participate in concerts of the University of Music's own orchestra. During the core year of the master's degree programme, they also perform up to 15 participation assignments per month in concerts and opera productions in the Sinfonieorchester Münster. This work is recognized as part of the Profile module of the master's degree programme Music and Creativity.

Academy members may also choose to gain additional qualifications by participating in various courses and seminars, e. g.

Performance practice
Crossover
Improvisation and Arranging
New Music
Applied Music Psychology and Physiology
Performance training
Systemic Business Planning
extracurricular events offered by the WWU's Career Service (e.g. communication and time management)

For further details on the curriculum and the skills students are expected to acquire, please read the examination regulations of the master's degree programme "Music and Creativity".

Students complete the master's degree programme and Academy phase in Münster at the University of Music and at venues of the Theater Münster. Both are situated downtown a short distance from one another.

Conductor and instructors

© Peter Lessmann

General music director Golo Berg

Born in Weimar, Golo Berg studied music at the College of Music "Franz Liszt" in Weimar. There he gained advanced training in master courses taught by Lorin Maazel, Michael Gielen, Gerd Albrecht, Dmitri Kitajenko and other distinguished conductors. At the age of 21, he was appointed as the world's youngest principal conductor at the Landestheater Mecklenburg. He later accepted appointments as general music director and principal conductor of the Städtebundtheater Hof / Hofer Symphonikern and as general music director of the Anhaltisches Theater Dessau and the Theater Vorpommern. In 2017 he was named general music director of the city of Münster. Golo Berg has performed in numerous radio broadcasts and produced a series of CDs which have received raving reviews by the trade press.

Within the broad scope of his concert repertoire, his particular interest lies in works of contemporary music, many of which have been performed as world premieres under his direction. As an opera conductor, he is distinguished by an extensive repertoire; he has guest conducted at numerous opera houses, e.g. in Essen, Leipzig, Cologne, Mannheim and St. Gallen.

Instructors for orchestral subjects at the Münster University of Music

Violin: Prof. Martin Dehning, Prof. Midori Goto (frist concermaster in the Sinfonieorchester), Prof. Koh Gabriel Kameda, Seran Lim
Viola: Prof. Tomoko Akasaka
Violoncello: Prof. Elisabeth Fürniss
Clarinet: Prof. Werner Raabe
Double bass: Axel Ruge (substitute solo bass player in the WDR Symphony Orchestra)
Trumpet: Thomas Stählker
Oboe: solo oboist in the Sinfonieorchester
Trombone: Jochen Schüle
Percussion instruments: Prof. Stephan Froleyks, Prof. Armin Weigert (solo timpanist in the Sinfonieorchester), Altfrid M. Sicking, Gereon Voss
© MHS / Alex Marc

Contact

Prof. Koh Gabriel Kameda (right) is the contact partner at the University of Music for Academy members. Prof. Armin Weigert (left), who is also the solo timpanist in the Sinfonieorchestra, can answer any questions you have concerning the orchestra.

For general questions about the Orchestral Academy and the application process, please contact the Studienbüro at the University of Music.

Postal address:
Musikhochschule Münster an der WWU
Ludgeriplatz 1
48151 Münster
Germany