Narrating Europe's Pluralities: Unity, Diversity and Exceptionality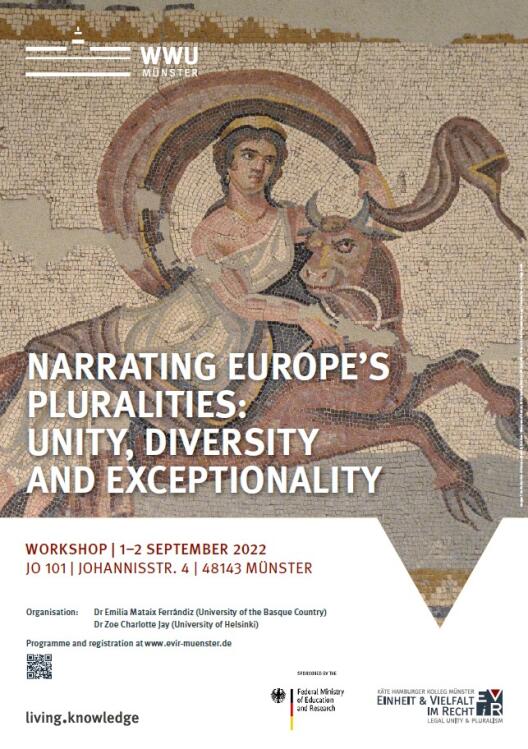 Workshop
Thursday, 1 September 2022 to Friday, 2 September 2022
Venue:
Room JO 101
Johannisstraße 4
48143 Münster

Registration:
Organisation:
Dr Emilia Mataix Ferrándiz (University of the Basque Country)
emilia.mataix@ehu.eus
Dr Zoë Jay (University of Helsinki)
zoe.jay@helsinki.fi
Programme
Thursday, 1 September 2022
10.00 am
Peter Oestmann and Ulrike Ludwig (EViR Directors)
Emilia Mataix Ferrándiz and Zoe Jay (Organisers) | Welcome notes
10.15 am | Keynote
Sebastian M. Spitra | An Archaeology of European Legal Pluralism: Geography, Identity, Narratives
11.00 am | Coffee break
Session 1: Unity – What Have the Ancient Ever Done for Us?
Chair: Gregor Albers
11.30 am
Jacob Giltaij | Separating the Universal and the Local: Ideas of Subsidiarity in Classical Roman Law?  
12.00 am
Marian Helm | Enabling Consensus: The Legislation of the Early Roman Republic
12.30 am
Matthias Sandberg | Riding the Bull: Europe between Orient and Occident
1.00 pm | Lunch break
Session 2: Diversity – Narratives and Interaction
Chair: Emilia Mataix Ferrándiz
2.00 pm
Jan Matthias Hoffrogge | How is the History of the European Union presented in European Schoolbooks?
2.30 pm
Ville Erkkilä | On Continuity and Change in a Socialist Dictatorship. A Conceptual History of Law and Morals in the GDR
3.00 pm
Ville Suuronen | German Legal Science against Received Roman Law? Reflections on the Banality of Evil and Fascist Legal History
3.30 pm | Coffee break
Session 3: Exceptionality – The World of Beliefs
Chair: Pamela Slotte
4.00 pm
Zoë Jay | Competing Visions of Subsidiarity: Diversity and Responsibility in the European Human Rights System
4.30 pm
Marianne Sandelin | The Paradox of Pluralism and Universalism: Joseph de Maistre's Critique of the Enlightenment
5.00 pm
Ville Louekari | Ernst Bloch and Counternarratives of Natural Law
7.00 pm | Dinner
Friday, 2 September 2022
10.00 am | Keynote
Stefania Gialdroni | Unity, Diversity or Exceptionality? The Enigma of the Medieval Lex Mercatoria
10.45 am | Coffee break
Session 4: Unity – Narratives and their Controversial Origins
Chair: Emilia Mataix Ferrándiz
11.30 am
Kaius Tuori | Roman Law and the European Pasts
12.00 am
Benjamin Seebröker | Homicide Rates in Europe and the Myth of a Long-Term Decline
12.30 am
Quentin Verreycken | The Legal Heritage of the Power to Pardon in Europe: Not One but Many
1.00 pm | Lunch break
Session 5: Diversity – Universal Values, Divergent Realities and Integration
Chair: Sophia Mösch
2.00 pm
Karolina Stenlund | Legal Pluralism and the Lack of a Legislator's Will: The Case of Genocide Denial
2.30 pm
Kostadin Karavasilev | Using Human Rights to Challenge Legal Incapacitation of People with Mental Illnesses and Intellectual Disabilities in Bulgaria
3.00 pm
Lena Klos | Narratives of Dependence: Kingdom of Westphalia and the French Empire
3.30 pm | Coffee break
Session 6: Exceptionality – Intersectional Identities and Narratives across Boundaries
Chair: Zoë Jay
4.00 pm
Clara Harder | From Coercion to Consent? Medieval Perspectives on the European Marriage Pattern
4.30 pm
Tuukka Brunila | Narrating State Sovereignty
5.00 pm
Final discussion and closure
Concluding remarks by the organisers