Conceptual Forum discusses "Normative Knowledge"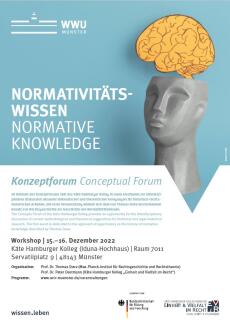 With the Conceptual Forum, the Kolleg introduces a new workshop format for the interdisciplinary discussion of current methodological and theoretical suggestions for historical and legal-historical research. The first event on 15 and 16 December is dedicated to the approach of legal history as the history of normative knowledge described by Thomas Duve.
There is a wide range of theoretical and methodological approaches in the field of interdisciplinary research on law. In order not to lose the overview here, the "Conceptual Forum" was created. The Kolleg invites experts to present their approaches and discuss them in detail with the fellows and academic staff as well as external guests in two-day workshops. The main aim is to explore the applicability for various research questions as well as the possibilities and limits of the respective approaches from different disciplinary perspectives.
The first Conceptual Forum will discuss an approach based on the history of knowledge. Professor Thomas Duve, Director of the Max Planck Institute for Legal History and Legal Theory and member of the Kolleg's academic advisory board, argues for an understanding of legal history as the history of the production of "normative knowledge". This implies a broadening of the perspective away from (national) state law towards a more comprehensive concept of norms, enabling legal history to connect with global history. Also, there are many exciting points of contact for the study of legal unity and pluralism.
Detailed information and registration for the workshop can be found here.