Standing Ovation for CiMIC Opening Ceremony
Spot on for Imaging to Understand Cellular Behaviour in Organisms!
Photos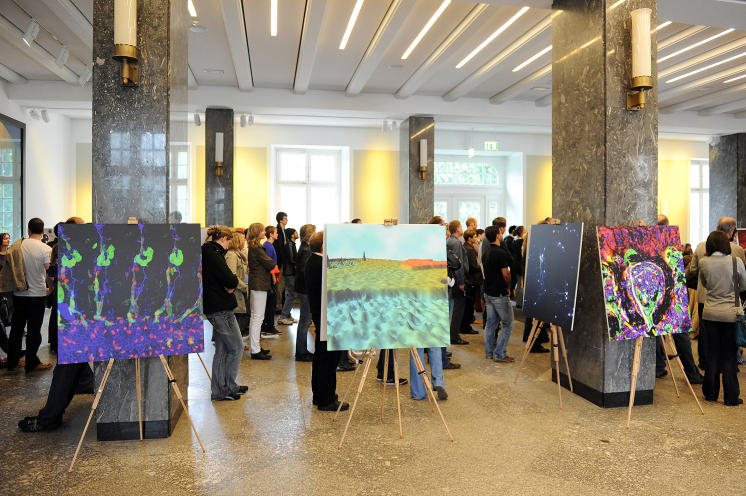 On May 31,2011 the official opening ceremony of the Cells in Motion Interfaculty Centre (CiMIC) was celebrated in the beautiful ambient of the historian Castle in Münster.
Prof. Ursula Nelles (rectory of the WWU) warmly welcomed more than 200 guests, among them Prof. Peter Funke (DFG vice president) and Prof. Klaus Anderbrügge (former Chancellor of the WWU). The attending professors, postdocs, graduate and undergraduate students as well as representatives from the worlds of business, culture and media enjoyed the remarkable programme of the CiMIC inauguration organised by the three CiMIC co-ordinators Prof. Lydia Sorokin, Prof. Volker Gerke and Prof. Michael Schäfers.
After a short welcome note by Prof. Lydia Sorokin, spoke person of the Cells in Motion (CiM) Excellence Cluster Initiative, the opening programme started with the very first presentation of the new CiMIC movie giving a brief overview about all involved scientific disciplines and the cutting-edge visions of CiMIC.
Prof. Paul Martin, cell biologist from the University of Bristol, was invited to give the opening lecture on 'Live imaging to observe similarities between wound healing and embryo morphogenesis'. In the second invited talk Dr. Stephan Trescher illuminated the fascinating topic of 'Imaging' from the very different but also exciting point of view of an art historian. His talk perfectly matched with another highlight - the vernissage of the outstanding CiM exhibition named 'Images and Imaging' showing 25 scientific pictures of the CiM principal investigators allowing for a multifaceted, colourful and surprising insight into science and research.
Furthermore, the audience especially liked the performance of the "EIMI Monotones" playing songs of the 1920s. Prof. Michael Schäfers (vocals), Prof. Andreas Jacobs (violin) and PD Klaus Schäfers (piano) are not only the leading scientists of the European Institute for Molecular Imaging (EIMI) but also the members of this amusing ensemble.
The new Cells in Motion Interfaculty Centre will provide the framework for further enhancement of interdisciplinary interactions and for the translation of novel molecular and conceptual information gained in basic cell biological research to clinical application. CiMIC, merging existing excellence at WWU in the areas of cellular biology and molecular imaging, will be a centre where traditional faculty boundaries will be broken down and the development of new topic-oriented research and teaching structures will be promoted. This will change the face of biomedical research in the future, thereby guaranteeing scientific excellence long-term.