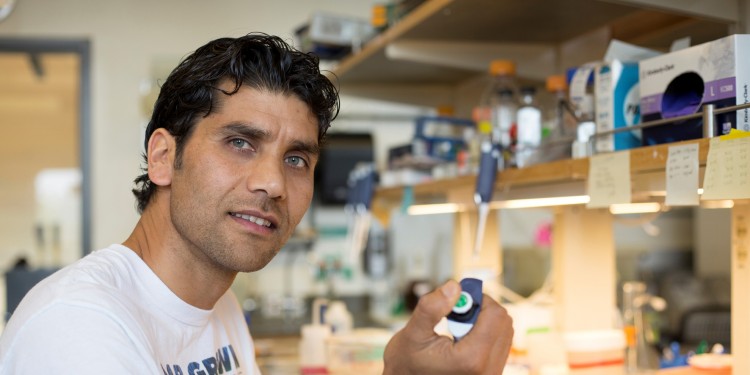 "It was a fantastic experience to work with researchers from all over the world"
Dr. Mubarak Hussain Syed, an alumnus of the University of Münster, looks back on his time as a PhD student in the graduate programme run jointly by the University and the Max Planck Institute
Dr. Mubarak Hussain Syed, who comes from Kashmir, in the Himalayas, is an alumnus of the University of Münster. He worked on his PhD at CEDAD-IMPRS, a PhD programme run jointly by the University and the Max Planck Institute of Molecular Biomedicine (MPI) and which has now been superseded by the expanded CiM-IMPRS programme. In this interview he talks to Christina Heimken about his time in Münster.
Maybe you reasoned for a while before you made up your mind for a certain university. What brought you to Münster at last?
After finishing a master's degree in biochemistry at the University of Kashmir, I spent some time teaching. I soon realised that, to be a good teacher, I needed to gain more knowledge. I moved to Bangalore, in India, where I started working in a lab at the National Centre for Biological Sciences, which is a highly reputed international institute. There I started working on understanding brain development. I was investigating the role of glial cells (the other important type of brain cell in addition to neurons) in the development and function of healthy brains. Over time, I became increasingly interested in understanding glial cell function, and I knew the best address for this is Prof. Christian Klämbt's lab at the University of Münster. I was fortunate enough to get a scholarship for CEDAD-IMPRS, which is now known as the CIM-IMPRS programme. It was after I visited Christian's lab that I decided to join the programme.
Which topic interested you in particular?
I have continued working with fruit flies to understand the role of glial cells in blood-brain barrier formation. The blood-brain barrier is a protective sealing of our brain, and if it is disrupted, the brain stops working and the animal dies. I discovered a few genes which are essential for the formation of the barrier and, interestingly, there are similar genes in vertebrates which might perform similar functions.
When you think back to your time in Münster, what are your fondest memories?
As I grew up in a village, I have always liked to live in small cities, and Münster was a perfect place for me. I had a fantastic time in Münster, a city full of students and bicycles. Most areas are accessible by bike, and that is what I miss – in addition to jogging along Lake Aa and the Promenade.
What was so special for you about the joint Münster-MPI graduate programme?
The faculties involved were working on many different aspects relating to cell biology, ranging from the development and function of different cell types and cell-cell communication to migration and cellular networks. The multidisciplinary approaches to understanding the essential functions of various cell types make this programme unique. Students from the fields of biology, chemistry, mathematics, physics and computer science work together to address cutting-edge questions at the frontiers of cell biology.
The other PhD students came not only from various departments, but from all over the world …
I believe that embracing diversity in all its forms is key to doing great research and is essential for achieving institutional excellence. With this in mind: yes, it was a fantastic experience to meet and work with researchers from all over the world. Having worked in both Germany and the US, the big difference I have experienced is that American universities and research institutes have a huge diversity within their faculties. US universities have international centres, where people meet over coffee and dinner. The universities organise international festivals, for example, Indian nights, African nights or Arabian nights and I enjoyed participating in this programme.
What did you do after you left Münster?
After finishing my PhD, I did postdoc with Prof. Chris Doe, who is a Howard Hughes Medical Institute investigator at the University of Oregon in the United States. I investigated the molecular mechanisms regulating neural diversity in the brains of fruit flies and discovered a mechanism by which hormones regulate neural fate specification and proper brain development. Recently, I got a position as tenure-track assistant professor at the University of New Mexico in Albuquerque. It is both exciting and challenging to lead a group in which you can address exciting questions to understand brain development and function. Also, I like mentoring and teaching and it will be an excellent opportunity to mentor and train young students.
I am looking forward to starting my own lab at the beginning of next year. I firmly believe that being on the CEDAD-IMPRS (now CiM-IMPRS) programme, and getting an opportunity to work with Christian Klämbt, has had a tremendous influence on shaping my scientific career. None of this would have been possible without Christian's fantastic mentorship.
Background information:
The University of Münster has numerous Research Training Groups, as well as other programmes for junior researchers. One of these is "CiM-IMPRS", a graduate programme run jointly by the University and the Max Planck Institute of Molecular Biomedicine. The programme is a merger of the "Cells in Motion" (CiM) Cluster of Excellence and the "International Max Planck Research School - Molecular Biomedicine" (IMPRS-MBM). "CiM-IMPRS" itself evolved from collaboration between two research institutes: "Cell Dynamics and Disease" (CEDAD) at Münster University and "IMPRS-MBM".
Further information