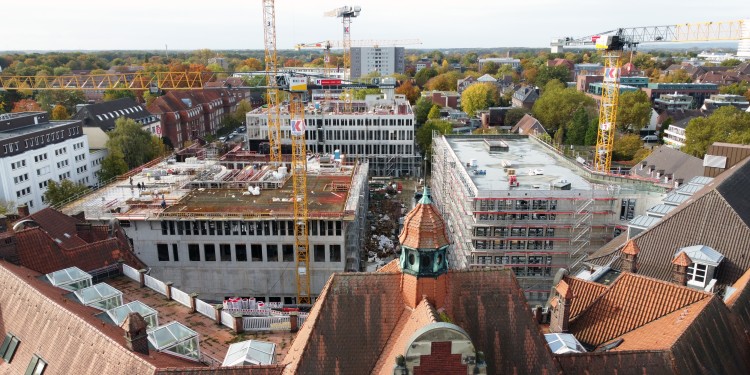 Topping-Out Ceremony for Theologies Campus
Theologies and Religious Studies Campus due to open in late 2015
Around 19,000 square metres of floor space, room for 500 staff and 4,400 students, and three new builds with up to five storeys: these figures alone reveal the dimensions of the building project located between Robert Koch Straße and Hüfferstraße. The new Hüffer Campus, which will include the University of Münster's Theologies and Religious Studies Campus – the only one of its kind in Germany – has now had its topping-out ceremony, which marks an important milestone. In around two years' time, one of the largest building sites in Münster is due to be completed. In late 2025, the Faculty of Protestant and Catholic Theology and the Centre of Islamic Theology are set to be housed in one building complex – something entirely new.
It was draughty – but sunny – when Hendrik Wüst, the Minister-President of North Rhine-Westphalia, inspected the construction site and, in keeping with tradition, hammered in the final nail and then gave numerous interviews on this project whose progress has been keenly followed all over Germany. Places where dialogue and solidarity can find expression are particularly important nowadays, Wüst emphasised. "My thanks go to you for seeking out what binds us together," he said, addressing representatives of Münster University of Applied Sciences and Münster Student Support Services (Studierendenwerk) who are together designing the Hüffer Campus.
Three themes are also reflected in the architecture and the design: exchanging ideas, binding people together and promoting solidarity. The reddish-brown clinker-brick façades of the new buildings with their coloured concrete bordering are inspired by the listed Hüffer Foundation building. The idea of following this principle is to produce a harmonic overall appearance. There will be a Campus Square, which can be accessed from all directions and which will incorporate lawns, trees and roof gardens, as well as a refectory with an outside terrace – all features which will invite visitors to rest and relax – and there will also be a library with work zones for individual and group work. "A centre of excellent research and teaching will arise around one of the largest theological libraries in Europe," said Prof. Johannes Wessels, Rector of the University.
Wessels also pointed out the importance of universities for the whole of society. The University of Münster was a "safe space", he said, in which it was also possible to "discuss conflicts which cannot be resolved". The Theologies and Religious Studies Campus being planned at the University of Münster was an outstanding example, he added, of this aspiration and this promise.
The construction work – carried out under the auspices of North Rhine-Westphalia's Department of Building and Real Estate Management (BLB) – have been progressing rapidly so far. It was only in November 2022 that the experts began constructing the underground garage – and now, one year later, the third shell construction for the largest of the buildings, with five storeys, has almost been completed. A covered walkway will form the bridge connecting the Theologies Campus with the historic Hüffer Foundation building. 4,000 square metres have been set aside for the specialist library containing a good half a million volumes and numerous journals.
Münster University of Applied Sciences will be locating its Departments of Social Work and Health on the site, along with some of its central service facilities, and the Münster Student Support Services will be building a third large refectory in the immediate vicinity. The underground garage will provide parking spaces for 270 cars and 1,200 bicycles, and there will also be charging points for electric vehicles.
"We're well on schedule," says Markus Vieth, head of the Münster office of the BLB Department. The next work will be on finishing the clinker-brick façades and on weatherproofing the building before the winter arrives. After that, the interior work will begin which, along with the technical building installations, will constitute a considerable part of the overall work.
Authors: Anke Poppen and Norbert Robers