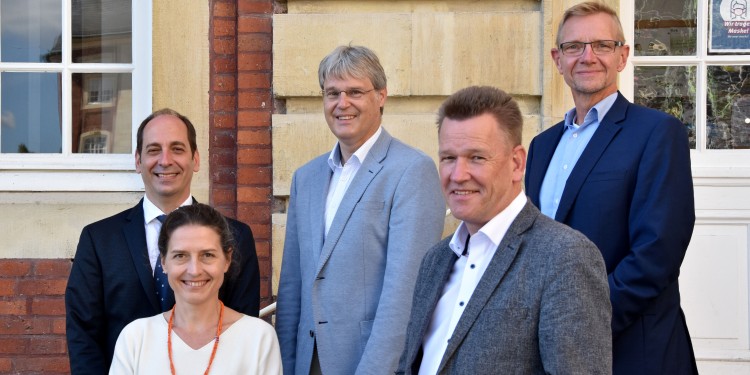 The Universities of São Paulo and Münster are moving closer together
Deputy Vice-Rector visits the University of Münster
Today, Monday (4 July), Prof Niels Olsen Saraiva Câmara, Deputy Vice-Rector for Graduate Studies at the University of São Paulo (USP), visited the University of Münster. Among other things, he spoke with the university management about the consolidation and further development of the strategic partnership. Since 2006, there has been a higher education agreement between the two universities that covers academic and scientific cooperation in all departments.
Rector Prof Johannes Wessels and Vice-Rector Prof Michael Quante discussed with their Brazilian guest, among other things, the expansion of joint doctoral programmes as well as external and internal funding opportunities to further strengthen cooperation and exchange in the areas of research, teaching and transfer. "For our university, the already strong partnership with the University of São Paulo will become even more important in the coming years, especially in the areas of sustainability, innovation as well as transfer and dialogue with society," Johannes Wessels emphasises. Other stops for Niels Olsen Saraiva Câmara were the Brazil Centre and the Graduate Centre. He also exchanged ideas about future cooperation with several professors from the fields of business informatics, pharmacy and medicine.
More information on the cooperation between the Universities of São Paulo and Münster
For the "wwu.usp" project, WWU received around one million euros from the German Academic Exchange Service (DAAD) in two funding phases (between 2015 and 2021) as part of the "Strategic Partnerships" programme. These funds were used to finance joint events (workshops, summer and winter schools) and to enable the mobility of researchers and doctoral students in both directions. In addition, the funding also benefited the establishment of regular coordination between the university managements in order to establish the strategic partnership.
Further information