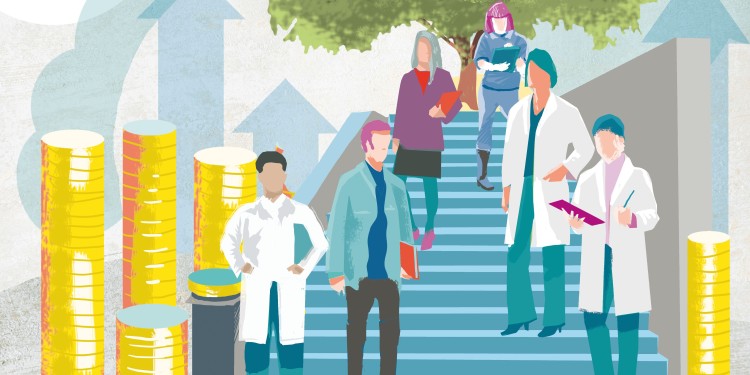 20 million euros for biological research
German Research Foundation prolongs two research alliances / Projects to begin in January
Two Collaborative Research Centres (CRC) at the University of Münster in the field of biology are being prolonged: the German Research Foundation is providing a total of around 20 million euros in funding for the interdisciplinary projects "Dynamic cellular interfaces: formation and function" and "A Novel Synthesis of Individualisation across Behaviour, Ecology and Evolution: Niche Choice, Niche Conformance, Niche Construction".
CRC 1348: "Dynamic cellular interfaces: formation and function"
Interfaces on which cells can establish contact with one another have a decisive importance in the formation and function of tissues and complex organisms. CRC 1348, which has been running since 2018, deals with the dynamics of cellular interfaces, with an interdisciplinary team of researchers investigating the formation and function of these structures. An exact time control of the cellular differentiation and its precise spatial integration in the organism require constant communication via cellular contact points. "These processes enable correct development and tissue homeostasis to take place," says Dr. Stefan Luschnig from the Institute of Integrative Cell Biology and Physiology, "and they are essential for appropriate reactions to any disfunction, for example in wound healing or in inflammation processes. This means that our research represents a fundamental basis of cellular and developmental biology, as well as of biomedicine." The CRC comprises 24 researchers from the faculties of Biology, Chemistry and Medicine at the University of Münster – collaborating intensively with the Max Planck Institute of Molecular Biomedicine. Prof. Christian Klämbt is the team's spokesperson, with Prof. Stefan Luschnig its co-spokesperson, and with their research alliance team they are continuing a strong tradition at Münster University of the analysis of cells and their dynamics by means of the most up-to-date imaging methods.
CRC/Transregio: "A Novel Synthesis of Individualisation across Behaviour, Ecology and Evolution: Niche Choice, Niche Conformance, Niche Construction"
This project, too, has been running since 2018. The research alliance is centred on the Universities of Bielefeld and Münster. The spokesperson for the CRC is Prof. Oliver Krüger from the University of Bielefeld; his deputy is the evolutionary biologist Prof. Joachim Kurtz from Münster University. The team of researchers is studying how living organisms succeed in adapting to their environment and in developing and using their ecological niche. "Our aim," says Oliver Krüger, "is to define and establish the concept of 'niche' at the level of the individual organism and to understand the ecological and evolutionary consequences of thus looking at things in a different way." In the past four years, the research team has added novel aspects to the concept of 'ecological niche' by focusing on the individual differences between animals. "Each individual grapples with its environment, but they all differ from one another in how they adapt as a result," adds Joachim Kurtz. Consequently, the researchers speak of individualised niches and are interested in three possible processes: niche choice, niche conformance and niche construction. To this end, researchers from a variety of disciplines – primarily behavioural research, ecology and evolutionary biology – will continue to work together in 20 sub-projects. Other disciplines involved include those of philosophy, statistics and theoretical biology. From 2022 to 2025, 19 PhD and ten postdoc positions are to be funded through the CRC.
Collaborative Research Centres
Collaborative Research Centres are interdisciplinary research bodies set to run for anything up to twelve years and funded by the German Research Foundation. CRCs enable work to be undertaken on innovative, ambitious research projects. Currently there are ten Collaborative Research Centres being coordinated at the University of Münster. Researchers from Münster are also involved in many other multi-university CRCs.
Further information