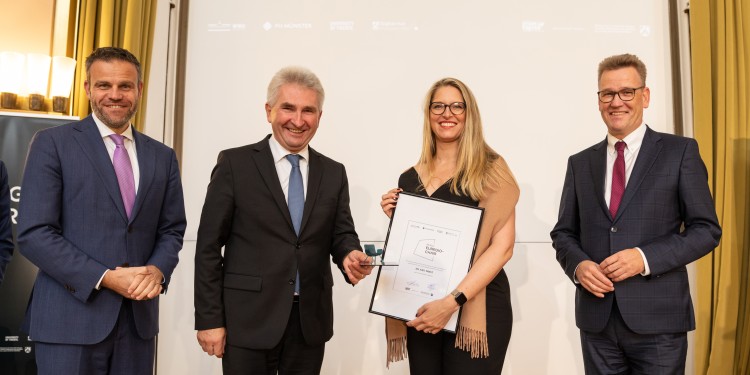 Award for the entrepreneurial dedication
Kati Ernst and Corinne Vigreux are awarded a "Reach Euregio Chair" by the Universities of Münster and Twente
Combining scientific know-how with an entrepreneurial spirit – this was the idea envisaged by the University of Münster and the Dutch University of Twente, in cooperation with their start-up centres REACH and Novel-T, when they awarded the "Reach Euregio Chair" for the first time on Thursday evening (October 14). The recipients, Dr. Kati Ernst (the founder of ooia) and Corinne Vigreux (the founder of TomTom), were presented with the award in the auditorium in the Schloss for their entrepreneurial dedication and their function as role models. Corinne Vigreux took part virtually with a video message. "We are delighted that it is you two who are the first to hold this symbolic professorial chair," said Rector Prof. Johannes Wessels in congratulating them. "The University of Münster intends to continue promoting start-ups arising from research in the future. For this reason it is important that smart people share their experience and their know-how with students."
And the award-winners will have plenty of opportunities to do so. On the very first day after the awards ceremony, Kati Ernst held a question-and-answer session with students in the cafeteria at the Aasee Mensa. With immediate effect, the two award-winners will be holding workshops and seminars over a period of two semesters in the EUREGIO Start-up region.
A digital keynote on entrepreneurship in the European Union was given by Jean-Claude Juncker, who joined the ceremony live from Brussels. The former President of the European Commission emphasized how important a strong start-up movement is for the European economy. In his speech, the Minister of Economics, Innovation, Digitalisation and Energy in the government of North Rhine-Westphalia, Prof. Andreas Pinkwart, underlined the enormous importance of start-ups growing out of universities. "The Reach Euregio Chair," he said, "is an important contribution to bringing start-up expertise into lecture halls to continue to promote exchanges between research and business and to motivate students to put innovative start-up projects into practice."
The award-winners
Dr. Kati Ernst is the founder and managing director of ooia. Her company is based in Berlin and, with its innovative products – so-called Female Centric Products –, it is moving into established areas of the consumer goods market. Kati Ernst was a student of Business Studies at Münster University. She and her co-founder Kristine Zeller won an award from the German government one year after they began their start-up in 2019 as "creative pilots" of German business. Last year she was presented with the German Start-Up Award as "Newcomer of the Year".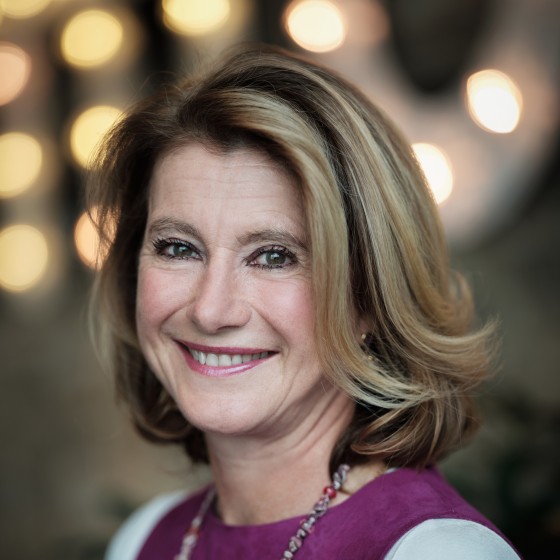 Corinne Vigreux has been active for over 30 years as a founder and manager in the technology sector. A co-founder of the Dutch TomTom company, a manufacturer of navigation systems and provider of geodata, she is currently Chief Marketing Officer at the company. Through her 'Sofronie' foundation she set up CODAM, a non-profit coding school, to promote the next generation of technology talents. In 2018 she was included in the Forbes list of the World's Top 50 Women in Tech. Corinne Vigreux is committed to supporting women in the world of work, and she actively advocates better social mobility through education.
Background
Since 2019 the REACH EUREGIO Start-up Center has been supporting people interested in beginning a start-up company in the German-Dutch border region, helping them to put their ideas into practice. Through its structured programmes, REACH – the university start-up centre at Münster University – helps in transferring research ideas into practice. In future, the Reach Euregio Chair, endowed by the two start-up centres REACH and Novel-T, is to be awarded every year.
Further information