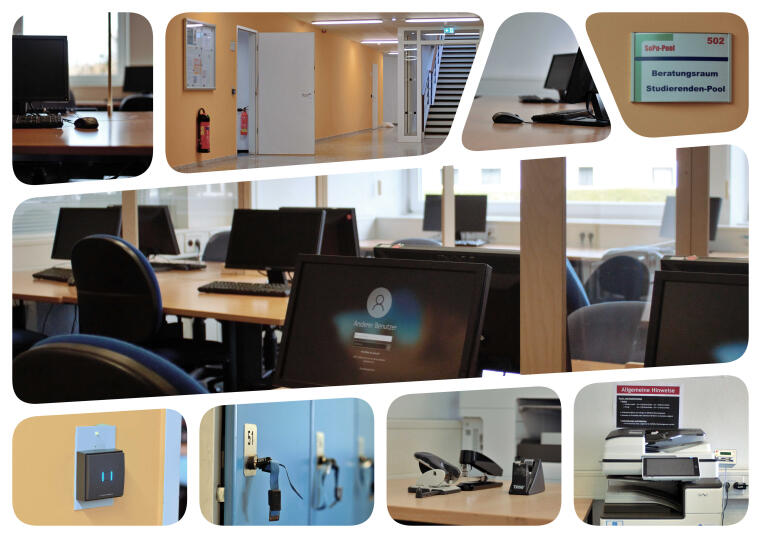 SoPoPool
PC workplaces of the Institutes of Political Science and Sociology
Opening hours:
Mon - Fri: 9.00 - 18.00
Consulting hours:
Monday
Tuesday
Wednesday
Thursday
Friday

09:00 - 14:00

10:00 - 12.00
13:00 - 17:00
09:00 - 12:00
14:00 - 16:00
10:00 - 18:00
-
Phone: 0251 83-29060
All inquiries by e-mail will be processed as soon as possible, even outside the above-mentioned periods.
Services

The employees of the SoPoPool support

the installation and use of video conference tools (WWUzoom or similar),
for questions about e-learning, Learnweb and certain formats of online teaching,
the setup of a WLAN connection on your own notebook/tablet/smartphone,
the installation and use of software such as SPSS, Sophos Antivirus, Microsoft Office, Open-VPN client,
the administration of various content management systems (Drupal, Wordpress, Wikis),
the use of programming, layout and query languages (e.g. PHP, HTML, SQL).

 

Equipment

Rooms

Open area (room SCH 121.502) with 10 workplaces (please note opening hours!)
Seminar room SCH 121.501 with 30 workplaces
Seminar room SCH 121.503 with 25 workplaces


Software (Selection)

Adobe Acrobat Pro
IBM SPSS Statistics
MAXQDA (room SCH 121.501 only)
Microsoft Office (Excel, Powerpoint and Word)
Open Office
R

Printing, Copying and Scanning

Printing

by student card via a multifunction device (costs such as copies, see below)

via the normal print dialog from a PC in the SoPoPool (only during opening hours)
directly at the multifunction device via USB stick or SD card (connections to the right of the control panel)

via Print&Pay (only during opening hours, print output: Einsteinstraße 60)

Copying

black and white: A4 = 0,04 Euro/page | A3 = 0,08 Euro/page
coloured: A4 = 0,05 Euro/page | A3 = 0,10 Euro/page

Scanning (free of charge)

---

At Scharnhorststraße 121 there is another multifunction device (copy room on the ground floor) which can also be used if the SoPoPool is closed.

Rental of Audio Recording Equipment

The SoPoPool consulting team offers digital recording devices, transcription pedals, room microphones (for video conferencing), and laser pointers, among other things, for loan. Rentals are available during advising hours. Pre-registration of a desired date by e-mail to receive the equipment is desirable.

Rental Conditions

Students of the Institute of Political Science and the Institute of Sociology are eligible for lending.
The lending period is up to 14 days. Students must identify themselves with their student identity card.
The borrowed equipment must be returned on the last day of the lending period.
The borrowed equipment must be equipped with batteries (type AAA) for use.
All personal data must be deleted from the memory before returning the device.