NEWS
19.01.2023
Herzliche Glückwünsche zum erfolgreichen Abschluss der Ausbildung als Physiklaborant, verbunden mit den besten Wünschen für eine weiterhin gute Zusammenarbeit, wünschen wir  unserem nun Ex-Azubi Nico. Wir freuen uns, dass Du uns im Institut erhalten bleibst und Dein Know how nun in der Vorlesungsvorbereitung einsetzt.
26.10.2022 - BaMa Day 2022
Thank you for visiting our booth  and for your interest in our scientific work. If you would like to become part of our working group, do not hesitate to contact us. See our master and bachelor projects at open positions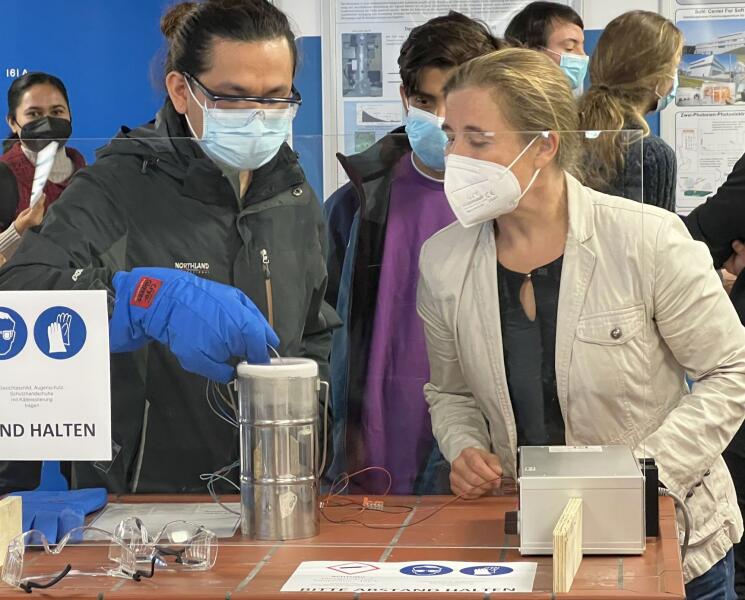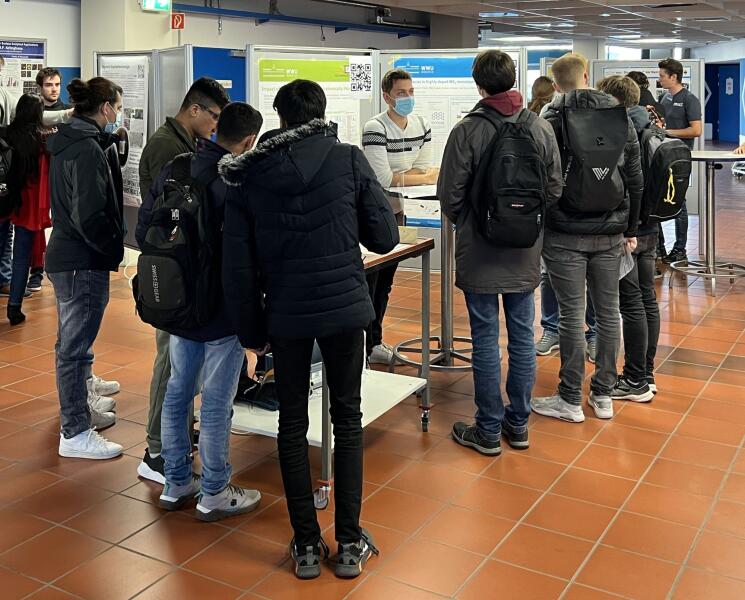 24.-28.09.2022
Where: Physikzentrum Bad Honnef
Scientific organizers: Prof. Dr. Ursula Wurstbauer, U Münster, Germany • Prof. Dr. Nahid Talebi, U Kiel, Germany
https://www.we-heraeus-stiftung.de/veranstaltungen/2d-materials-and-hybrids-hybrid-quasiparticles-in-quantum-materials/main/
WE-Heraeus-Seminar - 2D Materials and Hybrids: Hybrid Quasiparticles in Quantum Materials
Quasiparticles and their mutual interactions form the basis for quantum technologies and integrated opto-/electronic circuits with embedded novel functionalities. It is therefore important to understand the underlaying correlations including coherence properties and their dynamics on a very fundamental level. Material platforms hosting such quasiparticles and potentially allowing the implementation of integrated circuitries with intelligent or quantum functionalities are two dimensional (2D) materials and their hybrids formed from e.g. coupling with plasmonic structures. Two-dimensional materials exhibit a rich set of quasiparticle excitations, together with exciting spin and valley properties and topological non-trivial materials. 2D materials such as the intensively studied class of transition metal dichalcogenides (TMDCs), tetradymites, and further 2D materials with distinct topological properties have emerged as a platform to realize, understand and tailor quantum hybrid structures. They can be combined with arbitrary substrates, be twisted, and be assembled into heterostructures. Those 2D materials can be interfaced with plasmonic films and nanostructures to fundamentally study weak and strong interactions, as well as energy and information transfer between the different quasiparticles and for the realization of hybrid quasiparticles that can be integrated in functional units. The aim of the seminar is bringing together a group of excellent internationally well-established researchers working on 2D materials, hybrids and their quasiparticles from various points of views using different characterization tools, materials, or theoretical methods to foster synergy. Young researchers at the PhD or PostDoc levels will be encouraged to actively participate with poster presentations, at a panel discussion and a synergy workshop session.
The conference language will be English. The Wilhelm and Else Heraeus-Foundation bears the cost of full-board accommodation for all participants.
September 2022
Hendrik and Pierre-Maurice visited the FLATLANDS 2022 — 9th Flatlands beyond Graphene on Lanzarote (Spain), where they presented their new results in the poster session.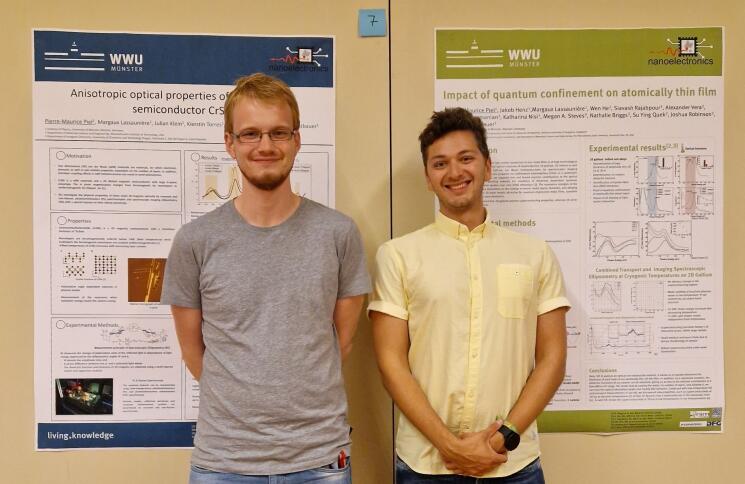 August 2022
With sun and warm temperatures, a little shower and great views of the surrounding area, the working group started a wonderful company outing in the Teuteburg Forest. It started with the bus from Münster to Dörenthe. At the Dörenther Cliffs parking lot, the working group surprised the birthday child Ursula with a second breakfast. Fresh sandwiches, cold drinks and delicious birthday cake served the working group as a refreshment for the upcoming hike along the Hermannsweg/Teutoschleifen.
Climbing was done on the "Hockendes Weib" and the view of the Münsterland was enjoyed. We continued in the direction of the Dreikaiserstuhl, Königstein-Bocketal Blick and Bismarkturm. Arriving in beautiful Tecklenburg, we took a deserved lunch break. A little rain brought some cooling and the group set out in the direction of the Tecklenburg Königsteiche and the Lengerich Canyon, an old sand-lime quarry that is now a nature reserve. Arriving in the center of Lengerich/train station, we took the train back to Münster.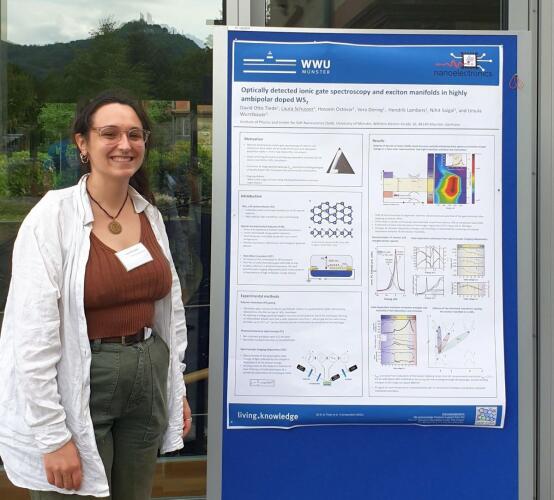 July 2022
Laura, Sven & Ursula joined at Bad Honnef Physics School "As thin as it gets: Physics of 2D Materials and Heterostructures"
Part of AGW kicked-off the summer conference / meeting / school season in Bad-Honnef – one of the first in person meeting since two-years and hence the first for Master students Laura and Sven who both presented posters. Ursula joined the "lecture Jam-Session" on Raman, PL and excitons in 2D materials together with Profs.  Agnieszka Kuc, Janina Maultzsch and Alexey Chernikov. Many thanks to the scientific organizers of the school, Prof.  Marika Schleberger and Prof.  Martin Mittendorff, as well as the Heraeus foundation and DPG for support.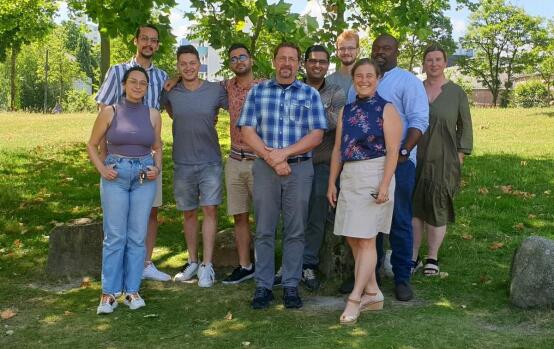 June / July 2022
Exciting and fruitful month with our guest and WWU Fellow Prof. Joshua A. Robinson (Penn State University, USA)
We enjoyed a very fruitful and enjoyable month with our collaboration partner and WWU Fellow Prof. Joshua A. Robisnon from Penn State university, who joined AGW for 4 weeks in June and July with lots of discussions and activities in the lab and beyond. It was an exciting and productive time.
Thanks, you very much for staying with us. We are looking forward to continue and intensify our collaboration!
June 2022
Time to say good-bye
With mixed feelings we have to say good-bye to our Postdoc Torsten. We will miss you and at the same time we wish you and your family all the best, success and happiness.
Delicious and sportive lunch break at the "Physik Fachschaft Sommerfest"
Many thanks to all organizers and supporters from the student body of the physics faculty for preparing such a nice party even if the weather did not really cooperate. The barbecue with all kind of options was a welcome and very tasty alternative to the student cafeteria and the delicious self-made liquid nitrogen ice-cream is a real insiders' tip. We are already looking forwrad to this delicious refreshment next year. The study board was really worried about our health and provided a healthy exercise option by the bouncy castle (including free  training of the risible muscles for all).

February 2021
Quantum Science & Technology Seminar by AG Wurstbauer & AG Schuck
On February 1st we had our last "Quantum Science & Technology Seminar (QST)" seminar held together with the AG Schuck with alternate talks by members of both groups. What was planned and started as hybrid lunch-time "Pizza-Seminar" ended as online seminar - charge it to Covid. Nevertheless, we had exciting talks, intense discussions and learn a lot from the quantum technology and quantum science world and got to know each other such that even two collaborative projects are initiated by the QST seminar.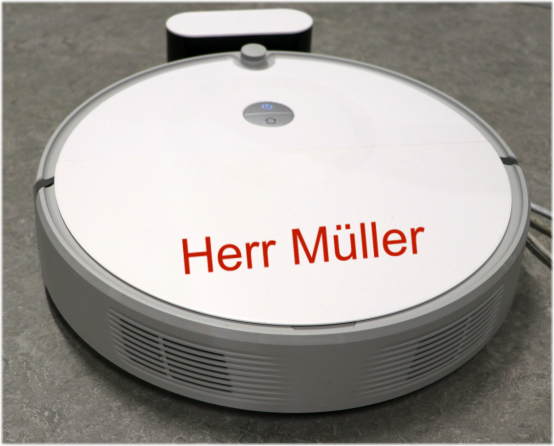 We welcome our new working group member - Mr. Müller. Even if Mr. Müller is not really a team player and prefers to work alone, he fits well into the working group. We are very happy about his active support during the quiet night shift ... ;-)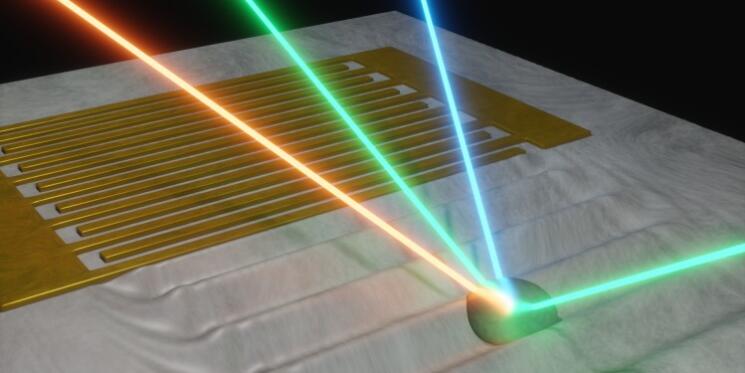 Physiker der Universität Münster bei Großgeräteinitiative erfolgreich
Deutsche Forschungsgemeinschaft fördert neues Gerät für die Quantenkommunikation
Ein Team vom Physikalischen Institut der Westfälischen Wilhelms-Universität (WWU) Münster war bei der Großgeräteinitiative "Quantenkommunikation" (QCDE) der Deutschen Forschungsgemeinschaft (DFG) erfolgreich: Die Wissenschaftlerinnen und Wissenschaftler erhalten ein "Millikelvin-Mikrowellen-Photonik-Messsystem", mit dem Bauelemente für die Quantenkommunikation untersucht werden sollen. Die DFG stellt hierfür rund 2,7 Millionen Euro zur Verfügung. Die Quantenkommunikation gilt als eine der Schlüsseltechnologien der Zukunft, bei der Informationen durch einzelne Lichtquanten, sogenannte Photonen, übertragen werden. Diese Art der Datenübertragung ist nicht nur schnell, sondern vor allem besonders abhörsicher.
Am Physikalischen Institut werden Quantenbauelemente für die Quanteninformationsverarbeitung entwickelt, deren Leistungsfähigkeit die Forschungsgruppen mit dem nun bewilligten Großgerät untersuchen können. Herzstück des neuen Geräts ist ein mit optischen Fasern und Hochfrequenzelektronik ausgestattetes Messsystem, in dem Quanten-Chips auf Temperaturen von nur wenigen Tausendstel Grad über dem absoluten Nullpunkt abgekühlt werden. Mit diesem einzigartigen Gerät sollen einzelne Photonen in atomar dünnen Materialien erzeugt und dabei mithilfe von Nanoschallwellen in bisher unerreichter Präzision getaktet werden. Im selben Gerät können aber auch die passenden in Münster entwickelten supraleitenden Einzelphotonen-Detektoren vermessen werden.
Über den nun bewilligten Antrag freuen sich neben Koordinator Prof. Dr. Hubert Krenner auch Prof. Dr. Ursula Wurstbauer, Prof. Dr. Rudolf Bratschitsch und Prof. Dr. Carsten Schuck, die am Projekt beteiligt sind. Am Physikalischen Institut startet in Kürze der Umbau der Laborräume, in denen das neue Großgerät aufgebaut und für Spitzenforschung zur Verfügung stehen wird. Es bildet eine wichtige Schnittstelle zum im Aufbau befindlichen Department für Quantentechnologie des Fachbereichs Physik der WWU sowie zu externen Kooperationspartnern für die Erforschung neuartiger Quantenbauelemente.
Großgeräteinitiativen der Deutschen Forschungsgemeinschaft
Im Rahmen von Großgeräteinitiativen können Wissenschaftlerinnen und Wissenschaftler bei der DFG aufwändige Großgeräte mit herausragender, innovativer Technik beantragen, mit der besonders zukunftsweisende spezielle wissenschaftliche und technische Fragestellungen untersucht werden können.
Mit der Initiative QCDE möchte die DFG Wissenschaftlern neueste Technologie zugänglich machen, die für die Erforschung von Quantenkommunikations-Systemen eingesetzt wird. QCDE soll dabei ein Schritt hin zur Standardisierung von Quellen, Transmittern und Detektoren für die Quantenkommunikation sein. Bislang werden vielfältige Ansätze vor allem mit hochspezialisierten Laboraufbauten entwickelt und getestet.
Meldung der DFG: Großgeräteinitiativen zur Erforschung von Quantentechnologie
Successfully kicking-off of the new year: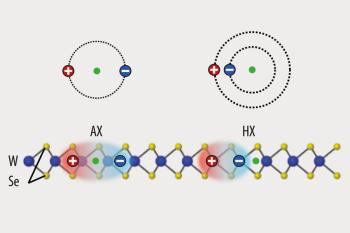 Warm welcome to our new Master student Sven. We look forward to a successful and great time with you.