interface physics group prof. dr. harald fuchs
Scientific Cooperations
---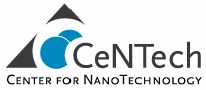 The Center for Nanotechnology (CeNTech) provides the infrastructure for direct and interdisciplinary collaborations involving faculties of the University of Münster (chemistry, physics, biology and medicine).
The TRR 61 is implemented as a close cooperation of nanoscientists (physicists, chemists, biologists, and material scientists) from the Westfaelische Wilhelms-Universitaet Muenster (WWU) with Chinese nanoscientists (chemists and physicists) from the Tsinghua-University and the Chinese Academy of Sciences in Beijing.

Das SoN ist ein Zusammenschluss von Wissenschaftlern aus Biologie, Chemie, Pharmazie, Physik und Medizin, die gemeinsam an weichen nanoskaligen Funktionsmaterialien forschen.

Das Center for Nonlinear Science (CeNoS) ist eine zentrale wissenschaftliche Einrichtung der Westfälischen Wilhelms-Universität Münster und besteht aus den beteiligten Arbeitsgruppen die im Moment sechs verschiedenen Fachbereichen angehören. Mitglied kann jede an der Thematik interessierte Arbeitsgruppe oder jede/r interessierte Wissenschafter/in der Universität Münster werden.Das CeNoS versteht sich als Dach für die grundlagenorientierte Forschung und Lehre an Fragestellungen zu nichtlinearen Systemen sowie für Anwendungen der Ergebnisse in verschiedenen Gebieten. Darüber hinaus dient es als Forum des interdisziplinären Dialogs zwischen Wissenschaftlern und Wissenschaftlerinnen verschiedener wissenschaftlicher Fachdisziplinen.
Nanotechnology companies
---

The accredited and independent testing laboratory nanoAnalytics was founded in 1999. The focus of our work is finding solution for surface- and interface related questions.
---
KENTAX GmbH is highly specialized German company that sells UHV equipment which is designed, final assembled and tested in 30926 Seelze, near Hannover.