Q. Shen, H.Y. Gao, H. Fuchs
Frontiers of on-surface synthesis: From principles to applications
Nano Today 13, 77-96 (2017)
Abstract   Download full article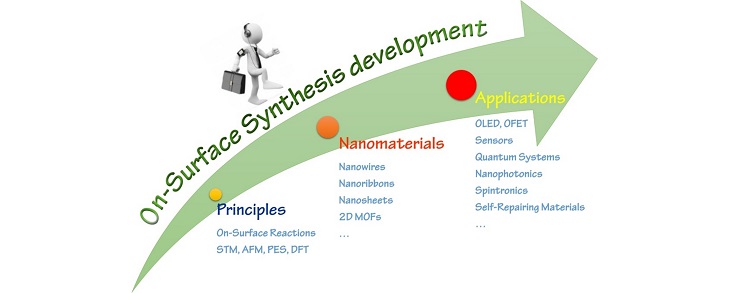 On-surface synthesis is the bottom-up construction of covalent bonds between molecular building blocks, which has been greatly developed during the past decade. Dozens of reactions have been successfully realized and scrutinized on various surfaces with the help of surface science techniques combined with theoretical calculations. Functional nanoarchitectures such as one-dimensional nanowires, nanoribbons and two-dimensional nanonetworks have been constructed on surfaces and explored in several potential applications. In fact, the generation of multilevel nanostructures will play a key role in future soft nanoscience and technologies due to their emergent properties ranging far beyond those of the individual molecules building them up. In this review, we discuss selected examples of important processes in on-surface synthesis developed in recent years and summarize them under the following aspects:
on-surface reactions in a category of different carbon types;
techniques applied in on-surface synthesis;
on-surface synthesized functional nanostructures; and
potential applications of on-surface synthesized nano-materials.
The review concludes with a perspective of the future development of on-surface synthesis.