Reza Halabian
PhD Student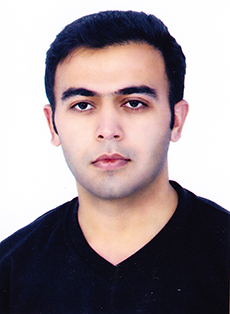 Institute of Bioinformatics
Faculty of Medicine
University of Münster
Niels-Stensen-Straße 14
48149 Münster, Germany
Tel.: +49 251/83-53002
reza.halabian@uni-muenster.de
Nationality: Iranian
Education
Since 2017:
PhD in the Institute of Bioinformatics, Faculty of Medicine, University of Münster, Germany
2004 - 2007:
Master of Science in Animal Breeding and Genetics (M. Sc.), Departmen of Animal Science, Faculty of Agriculture, University of Zanja, Iran
2000 - 2004:
Bachelor of Science in Animal Science (B. Sc.), Faculty of Animal Science, Gorgan University of Agricultural Science and Natural Resources, Iran
Work Experience
2009 - 2016:
Lecturer and Director of the Genetics Laboratory, Tehran Institute of Technology - Branch of Sabzevar, Iran
2011 - 2015:
Teaching assistant, Department of Animal & Poultry Breeding and Genetics, Gorgan University of Agricultural Sciences & Natural Resources, Iran
Supervisors
Prof. Dr. Wojciech Makałowski, Institute of Bioinformatics, University of Münster, Germany
Dr. Francesco Catania, Institute for Evolution and Biodiversity, University of Münster, Germany
PD Dr. Jürgen Schmitz, Institute of Experimental Pathology, University of Münster, Germany
Research interests
NGS in medical research
Genomics
Epigenomics
Proteomics
Phylogenetics
Systems Biology
PhD project description
Comprehensive study of transposon-driven transductions in cancer and healthy genomes
Mobile element insertions (MEIs) constitute about 25 percent of the human structural variants. They are three different transposable element (TE) families that are presently active in the humans: Ll elements of the LINE order and two types of SINEs, i.e. Alu and SVA. While the Ll element is autonomous, the latter depends on Ll molecular machinery to move around the genome. Consequently, all three elements share similar transposition signatures: the Target Site Duplications (TSDs), polyA tracks, frequent 5' inversions due to twin priming, 5' truncations caused by incomplete replication, and 3'-transductions as a result of using alternative, downstream poly(A) signals. The latter is especially interesting from the evolutionary point of view because as hypothesized two decades ago it may be a source of genome shuffling. There is a plenty of evidence that MEIs lead to human diseases, such as gyrate atrophy, hemophilia b, neurofibromatosis, cystic fibrosis, cancers, and many others.
The recent development of sequencing technologies resulted in thousands of human genomes available for the analysis. Although sequenced at the different coverage level and usually limited to short reads, the available data enable MEI studies at the population level. I will investigate thousands of publicly available genomes of both normal and disease phenotypes. Thanks to my supervisor's involvement in several large-scale genomic projects I will also have access to yet-unreleased data. The ultimate goal of the project will be to understand population dynamics of MEJs, with the special focus on DNA transduction and their evolutionary consequences. I also hope to be able to evaluate their roles in driving human diseases, especially different type of cancer.
Publications
Halabian R, Makałowski W (2022) A map of 3' DNA transduction variants mediated by non-LTR retroelements on 3202 human genomes. Biology 11(7):1032. 10.3390/biology11071032 [doi]
Hoyt SJ, Storer JM, Hartley GA, Grady PGS, Gershman A, de Lima LG, Limouse C, Halabian R, Wojenski L, Rodriguez M, Altemose N, Rhie A, Core LJ, Gerton JL, Makalowski W, Olson D, Rosen J, Smit AFA, Straight AF, Vollger MR, Wheeler TJ, Schatz MC, Eichler EE, Phillippy AM, Timp W, Miga KH, O'Neill RJ (2022) From telomere to telomere: The transcriptional and epigenetic state of human repeat elements. Science 376(6588):eabk3112. 10.1126/science.abk3112 [doi]
Halabian R, Eskandari MP, Nassiry MR, Heravi Moussavi AL, Hosseini SA & Quanbari S (2008) Characterization of SNPs of bovine prolcatin gene of Holstein cattle. Biotechnology 7:118-123. 10.3923/biotech.2008.118.123 [doi]
Halabian R, Eskandari MP, Nassiry MR, Heravi Moussavi AL, Hosseini SA & Javadmanseh A (in press) Detection and genotyping of SNPs of exon 4 in bovine prolactin gene of Iranian Holstein cattle. African Journal of Biotechnology.
Attended conferences/workshops
September 4-8, 2017: Participation in the course of 12th Poznan summer school of bioinformatics with the topic of NGS in medical research, Faculty of Biology, Adam Mickiewicz University, Poznan, Poland
November 2017: 5th national conference of biotechnology , Tehran, Iran. Participant with an oral presentation, title: "Detection SNPs of Bovine Prolactin Gene"
December 12-24, 2006: Coursework training (2 weeks) in Bioinformatics for MD simulation, CinnaGen, Tehran, Iran
December 12-24, 2006: Coursework training (2 weeks) in PCR for Diagnosis: Design of Laboratory, Real Time PCR, Diagnosis for HIV, CinnaGene, Tehran, Iran