New fellows in October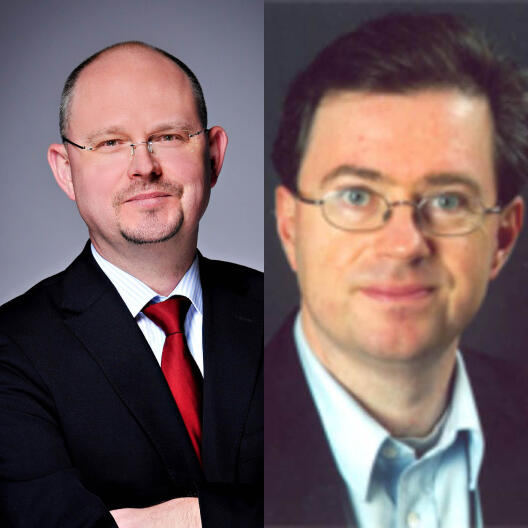 In October, the Kolleg once again welcomes two new fellows. The historian Hillard von Thiessen (University of Rostock) will study competitions between norms in the early modern period during his one-year stay in Münster. Ancient historian Hans Beck (WWU Münster) will begin a six-month Münster Fellowship, which gives researchers at the WWU a sabbatical to devote themselves to a relevant research topic and to collaborate with the other Kolleg fellows. The winter term will see Beck studying political systems in ancient Greece. We wish them both a good start in Münster and look forward to stimulating collaborations.
The new fellows in profile:
Prof Dr Hans Beck studied at the universities of Canterbury and Erlangen-Nuremberg, where he received his PhD in 1996. He then worked as an Assistant Professor at the University of Cologne, where he completed his habilitation in Ancient History in 2003. In 2005, he was hired to the position of John MacNaughton Chair of Classics and Professor of Ancient History at McGill University in Montreal, where he served as Director of Classical Studies from 2007 to 2016. Since 2018, he is Professor of Greek History at the University of Münster. His research interests lie in the periods of Archaic and Classical Greece and the Roman Republic, focusing on designs of polis governance and federalism, historical topography, dynamics between localism and 'globalization' in Greece and the political culture of the Roman republic. At the Kolleg, he will focus on local forms of organisation and legal spaces in ancient Greece.
Prof Dr Hillard von Thiessen studied History, English Literature and Linguistics and Political Sciences at the Universities of Kiel, Edinburgh and Freiburg im Breisgau. In 2001, he earned his Dr. phil. at the University of Freiburg with a dissertation on the Capuchins. Subsequently, he worked as a research assistant at the universities of Freiburg and Berne. From 2007 on he taught at the University of Cologne as a Substitute Professor until he was appointed Professor of Early Modern History at the University of Rostock in 2012/13. His research concentrates on transnational relations and new approaches to the history of diplomacy, corruption and concurrence of norms and values as a distinguishing feature of late medieval and early modern European societies. At the Kolleg he will examine the competition of legal norms in the early modern ʻAge of Ambiguityʻ.