New fellows in August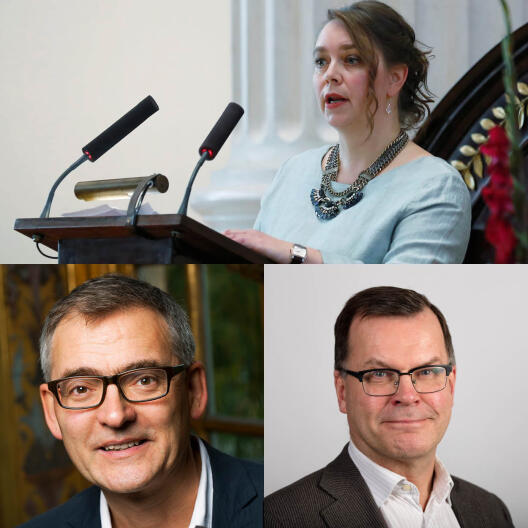 In August, three researchers begin their fellowships at the Kolleg: historian Dieter Gosewinkel, legal historian Mia Korpiola and legal historian Heikki Pihlajamäki. We wish them a good start in Münster and look forward to stimulating collaborations.
The new fellows in profile:
Prof Dr Dieter Gosewinkel, trained as a lawyer and historian, is a senior research fellow and former director of the research center "Global Constitutionalism" at the WZB Berlin Social Science Center and Professor of History at the Freie Universität Berlin. In recent years, Gosewinkel was a faculty fellow of the St Antony's College at Oxford University, Sciences Po Paris, and the Robert Schuman Center for Advanced Study (EUI). His work focuses on the history of citizenship in Europe, comparative constitutional and legal history, intellectual and political history of Europe, civil society and civility. At the Käte Hamburger Kolleg he will investigate the exclusion of so-called public enemies from the legal community in Germany, France, USA and Israel in the 20th and 21st century.
Prof Dr Mia Korpiola has been professor of legal history at the University of Turku since 2014. She was a research fellow at the Helsinki Collegium for Advanced Studies in 2010-2013, then a fellow at the Centre for Advanced Study at the Norwegian Academy of Science and Letters and visiting researcher at the Department of History of Uppsala University. Korpiola's main fields of expertise are the history of family law, the reception of learned law in medieval and early modern Sweden, the history of legal work and professions, and the legal history of vehicles. At the Käte Hamburger Kolleg, she will work on a research project on the reception of the ius commune and foreign law in Sweden from 1520 to 1620.
Prof Dr Heikki Pihlajamäki is professor of comparative legal history at the University of Helsinki. In 2013-14, he was International Francqui Professor at the University of Ghent. The Academy of Finland appointed him to the chair of Academy Professor for the five-year term 2021-26. Pihlajamäki's research focuses on the legal history of the early modern period, and encompasses geographically Europe and the Americas. Within legal history, his main subject areas include procedural law, criminal law, legal sources, colonial law, and the legal profession. During his fellowship at the Käte Hamburger Kolleg, he will compare the colonial rights of England, the Netherlands, Spain and Portugal in the early modern period.