The Brazil Centre welcomes new board members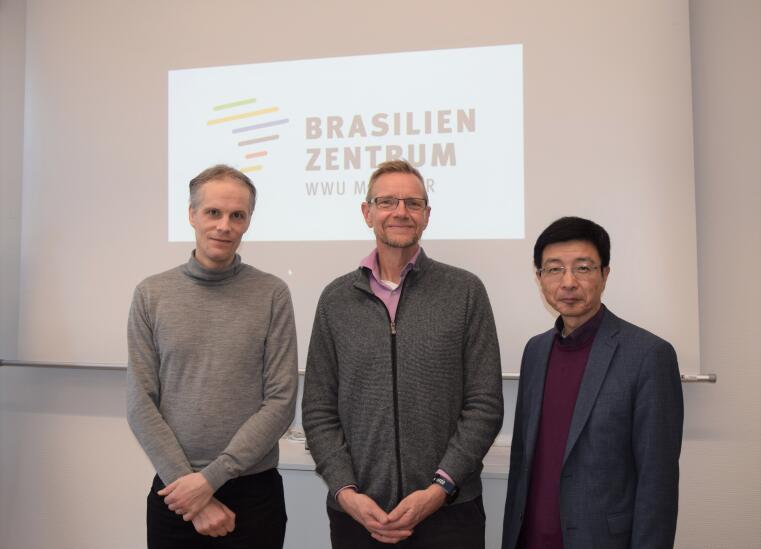 On 18.01.2022, the general assembly of the Brazil Centre was held in a hybrid format, during which the new board of the Brazil Centre was elected. Prof. Dr. Xiaoyi Jiang (Institute of Computer Science) and Prof. Dr. Niels Petersen (Faculty of Law) were newly elected to the board by the members, while Prof. Dr.-Ing. Bernd Hellingrath, also scientific director of the Brazil Centre, was re-elected as a board member. Alongside Prof. Dr. Michael Quante (Vice-Rector for Internationalization, Knowledge Transfer and Sustainability), who is appointed by the Rectorate as a representative on the board, they form the new four-member board of the Brazil Centre of Münster University. Prof. Jiang and Prof. Petersen, who maintain numerous contacts not only in Brazil but also in other Latin American countries, were happy to contribute to the further development of the Brazil Centre in their new roles. The Brazil Centre looks forward to a good and productive cooperation with the new board and would like to take this opportunity to congratulate the new board members!
In addition to the board election, the general assembly also included the farewell of two departing board members: Prof. Wolfgang Bilsky (Senior Professor, Institute of Psychology) and Prof. Dr. Thomas Schmidt (Institute of Pharmaceutical Biology and Phytochemistry), who had been active on the board since the founding of the Brazil Centre. Through their good contacts to Brazil and their extraordinary motivation to advance bilateral research cooperation with Brazil, they were of great importance for the development of the Brazil Centre. On behalf of the Brazil Centre, Prof. Dr.-Ing. Bernd Hellingrath thanked them for their valuable support and contributions – a gratitude that is reinforced here.
Anja Grecko Lorenz, Managing Director of the Brazil Centre, and Laura Redondo, Head of the Liaison Office in São Paulo, presented an overview of the latest developments in science policy in Brazil, which are once again raising positive expectations regarding cooperation with the country in light of the overcoming of the pandemic, as well as the numerous activities of the Brazil Centre that have taken place online or in presence since the last General Assembly and those that are planned for 2023. The status of cooperation with the various Brazilian institutions, relevant calls for proposals and opportunities for participation by members were also presented.
Finally, Prof. Dr. Bernd Hellingrath gave more detailed information about the current evaluation process of the Brazil Centre, which is to be completed in the coming months. Furthermore, the members were able to learn more about the reorientation of the Brazil Centre with regard to the expansion of its task area to other Latin American countries. The meeting was followed by numerous bilateral discussions between the present, outgoing and new board members and staff members of the Brazil Centre to talk about various future projects, individual cooperation or even the changed framework conditions.