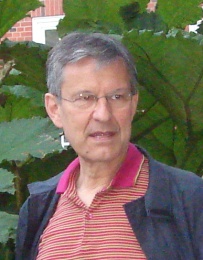 Publications

IBANEZ AJ, SCHARTE J, BONES P, PIRKL A, MELDAU S, BALDWIN IT, HILLENKAMP F, WEIS E,  DREISEWERD K (2010).
Rapid metabolic profiling of Nicotiana tabacum defence responses against Phytophthora nicotianae using direct infrared laser desorption ionization mass spectrometry and principal component analysis.
Plant Methods Jun 9;6:14.

SCHARTE J, SCHÖN H, TJADEN Z, WEIS E, VON SCHAEWEN A (2009).
Isoenzyme replacement of G6PDH in the cytosol improves stress tolerance in plants. Proc. Proc. Natl. Acad. Sci. USA 106: 8061-8066.

ESSMANN J., BONES P., WEIS, E., SCHARTE, J. (2008)
Leaf carbohydrate metabolism during defense: intracellular sucrose-cleaving enzymes do not compensate repression of cell wall invertase.
Plant Signaling & Behavior 3 (10), 885 – 887.

ESSMANN J., SCHMITZ-THOM I., SCHÖN, H., SONNEWALD S., WEIS, E., SCHARTE, J. (2008)
RNAi-Mediated Repression of Cell Wall Invertase Impairs Defense in Source Leaves of Tobacco.
Plant Physiol.147: 1288-1299.

SCHÖN, H., SCHARTE, J., ESSMANN J., SCHMITZ-THOM I. & WEIS, E. (2008)
The role of light and photosynthesis during pathogen defence in tobacco leaves.
In: J.F. Allen, E. Gantt, J.H. Golbeck, and B. Osmond (eds.), Photosynthesis. Energy from the Sun: 14th International Congress on Photosynthesis, Springer, Heidelberg: 1557-1560.

SCHARTE, J., SCHÖN, H. & WEIS, E. (2005)
Photosynthesis and carbohydrate metabolism in tobacco leaves during an incompatible interaction with Phytophthora nicotianae.
Plant, Cell & Environment 28 (11), 1421-1435.

TREMMEL, I. G., WEIS, E., FARQUHAR, G. D. (2005)
The Influence of Protein-Protein Interactions on the Organisation of Proteins within Thylakoid Membranes.
BIOPHYS. J. 88 (4):2650-60.