International Interest in BACCARA: 17 Students Start Doctoral Studies
They come from India, Indonesia, Russia, South Korea and Germany: 17 young researchers will start their studies at the International Graduate School for Battery Chemistry, Characterisation, Analysis, Recycling and Application (BACCARA) in winter semester 2021/22. From 377 applications from over 30 nations, the students were selected to conduct future research at the University of Münster in the town's battery hotspot. The proportion of women among the students at the International Graduate School thus rises up to 41 per cent.
One of the prospective battery researchers is 24-year-old Ankita Das from India: "My primary motivation to apply for BACCARA was the opportunity to work in a collaborative environment at such a large scale, the opportunity to interact at both scientific and non-scientific levels with people who share the same passion for science and in particular for batteries. Also, I am highly motivated to work in the field of batteries which has the potential to further make significant changes in many areas including energy and environment, to name a few."
To help the new students get started, the "BACCARA Buddy Programme" was launched: Existing students support "the newcomers" with advice and assistance via ZOOM, email or telephone even before they start their studies. A total of 26 students from eight nations are currently studying at the International Graduate School, which was founded in summer 2020.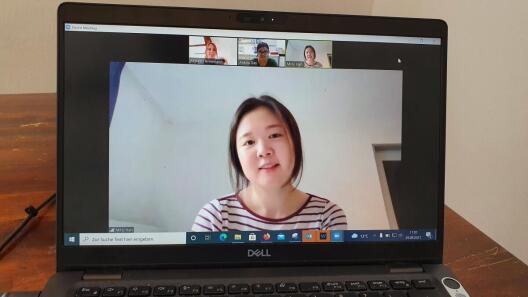 25-year-old Minji Han from South Korea who is also part of the 2nd cohort of BACCARA students looks forward to her start: "As an international student, I am excited to explore new cultures in Germany and to share thoughts with people from around the globe. I believe the experiences at the BACCARA program can broaden both: my vision and career opportunities."
The freshly started doctoral students are among a total of 45 talents who will benefit from the concentrated knowledge of renowned researchers in BACCARA over the next 5 years. More than 20 professors and heads of junior research groups from the Departments of Chemistry and Pharmacy, MEET Battery Research Center, Helmholtz Institute Münster, a branch of Forschungszentrum Jülich, and several further WWU departments will be involved in BACCARA. The comprehensive programme covers a wide range of topics, covering the complete value-added life cycle of batteries.
Applications for BACCARA open again in January 2022
The International Graduate School is open to chemists and materials scientists of all disciplines. The call for the next cohort is planned for January 2022. The state of North Rhine-Westphalia is funding BACCARA with 9.5 million euros over a period of five years.