Leonardo-Campus-Run 2021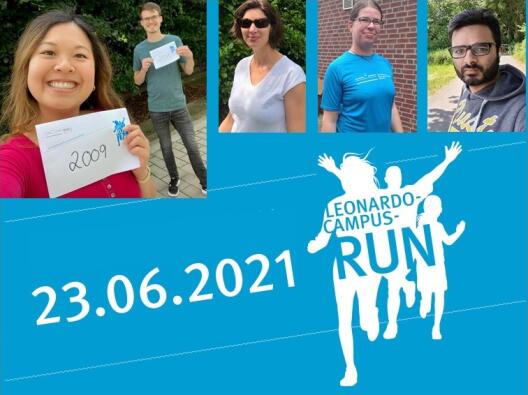 Once again this year, the Leonardo-Campus-Run lured all sports enthusiasts out into the fresh air. On Wednesday, 23.06.2021, the run took place in a special format: all runners could choose any time of the day to complete the given distances on their personal favorite route.
For 24 hours, from 0:00 in the morning until 24:00 at night, the goal was to complete one of three different running distances. For those who did not want to run, this year there was the opportunity to collect 5,000 or more steps throughout the day.
The team of the International Graduate School BACCARA competed with a total of eight athletes: Egy Adhitama, Atif Javed, Maleen Middendorf and Kerstin Neuhaus participated in the 5 km run. Valentin Göldner, Linda Quach, Julia Quante and Britta Weiguny started with the goal of collecting 5,000+ steps. Atif Javed was 13th in men's race (6th in his age group) with 22:23 min., the fastest in our team. We congratulate.