"It's a lot about collaboration"
They came from the UK and Pakistan and are among the first ones to join the International Graduate School BACCARA: Henry Woolley and Atif Javed explain why they decided to come to the battery hotspot Münster and what role collaboration plays within the Graduate School.
Atif, your home country Pakistan is about 5.500 kilometres away from Münster, Henry you used to live south of London in the UK, which is around 870 kilometres away from the BACCARA location. Why did you both decide to move to Münster?
Atif Javed: I came to Germany to do my Master's degree in Darmstadt. The decision to focus on battery research was made during an internship in my studies. I've read about MEET Battery Research Center before and was happy when I heard about the founding of the new International Graduate School with all its opportunities in Münster. Therefore, I decided to apply.
Henry Woolley: My online search for a suitable graduate school brought BACCARA into my focus. I wanted to work on energy storage for a long time and found the combination of the participating institutions as well as BACCARA's broad range of topics convincing.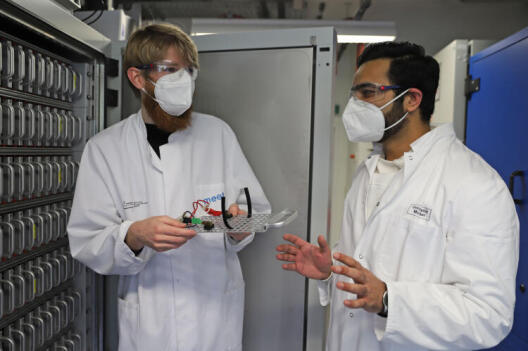 What has helped you to settle in in Germany? Were there any surprises?
Henry: We surely chose one of the most difficult times to move in the midst of the Corona pandemic. I work in the group of Dr Nella Vargas-Barbosa, she was and is a great help in arriving well. Being able to meet people in person on a limited basis certainly drags things out. But what really surprised me was the way we work together here: Everything is very much based on cooperation. There is joint reflection and discussion, and even if everyone is researching their own topic, there are numerous interfaces, which is very positive and helpful.
Atif: I absolutely agree! The cooperation and exchange are really good and video conferences make a lot of things possible. My colleagues in the lab and my supervisor Dr Markus Börner in the group of Prof. Martin Winter are helping me to get started. What surprised me most was the size of battery research in Münster. I don't just mean the size and equipment of the labs, but the approximately 250 battery researchers who focus on the topic. That is a strong research community we are working in.
What does your "typical working day" look like?
Henry: My work on solid state electrolytes is divided into laboratory work in the morning and work at the desk or in seminars in the afternoon. Especially in our colloquium, we have a very intensive exchange, which helps to advance one's own topic. We don't just discuss among ourselves here, but often have top-class guest lecturers.
Atif: Of course, the focus is on our research work. In my case, it is the work on interfaces for active materials. My typical working day consists of lab work and desk work as well. We not only have state-of-the-art equipment at our disposal, but also the opportunity for extensive collaboration. That takes our own work to a completely different level.
What do you value within BACCARA?
Atif: My greatest moment was definitely my first day working in the lab. The opportunities here are great. No matter where you come from, we are all brought to the same level at first, there is intensive work on sound fundamentals. We enjoy a lot of scientific freedom to work on our research topics. There is also an accompanying German course, which is helpful.
Henry: For me, BACCARA is extremely diverse. Battery research is looked at from so many different angles here, which I find very beneficial. Especially in our lectures, there are always new perspectives. You are constantly given incentives to think about how things can be improved even more. And even though togetherness is currently limited due to the pandemic, there was, for example, a "Virtual Games Night", where we met online for a games evening.
What do you recommend people who consider to focus on battery research?
Henry: Focusing on your strengths and doing what you are passionate about. You spend a lot of time doing it, so it's important to choose your subject carefully and to enjoy it.
Atif: Research, research, research – go to the lab, be diligent and network with people in battery research. Get to know them through lectures, read articles and talk to the authors. The path of cooperation already starts here!