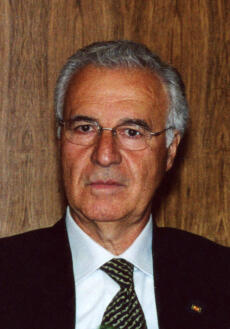 The Institute for Interdisciplinary Cypriot Studies has lost one of its best friends:
Andros Nicolaides passed away in Cyprus on February 4, 2021, at the age of 82
---
As Ambassador of the Republic of Cyprus to Germany in the years from 1992 to 1996 Andros Nicolaides, born on August 20, 1938, in the Cypriot mountain village of Galata, was a driving force during the founding process of the Cyprus Institute at the University of Münster. Even before this institute was able to open its doors in May 1996, he had already ensured that a large number of books arrived in Münster – books that were to form the basis of the Institute's library. About a year later (in December 1996), during a visit to Münster, he was able to see for himself that the Institute was developing well.
Having retired in 1998 after his last service as Ambassador of Cyprus (to the USA, 1996–1998), he received, in 2002, a great honour from the University of Münster: Together with Professor Nelly Tsouyopoulou (1930–2005) he was awarded the University's Medal of Friendship; both were honoured for their great commitment concerning the foundation of the Institute.
Andros Nicolaides' great interest in the Institute did not cease until his death. When Cyprus was plunged into a severe financial crisis in 2013 – a crisis that also had (and still has) its effects on the Institute – we knew that in Andros Nicolaides we had a friend in Cyprus who repeatedly used all his influence for the good of the Institute. Until his death he did this in a reliable and impressive way.
We will honour his memory.
Münster, February 15, 2021