Research transfer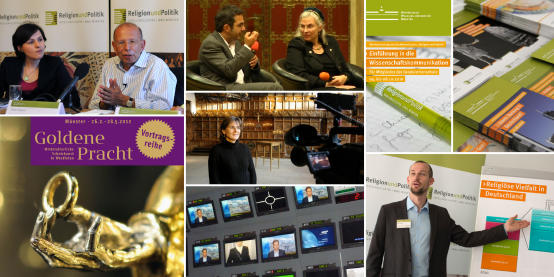 The Cluster of Excellence explores numerous current and historical topics relating to the conflicting interests of religion and politics and attaches great importance to communicating its research results to the wider society. "Religion and Politics" is highly topical and attracts great interest. Approximately 200 academics, in addition to doing their foundational research, actively seek to establish contact with the public on pressing questions about the future and to contribute their expertise – be this sociological insights into migration in Europe, philosophical reflections on biopolitics, analyses of religious issues from the viewpoint of constitutional law, or historical studies of the relationship between religion, violence and gender.
Centre for Research Communication
The Centre for Research Communication is the first point of contact for all those who are interested in the Cluster of Excellence and promotes the dialogue of scholars with representatives from the media and politics, from educational institutions, culture, churches and religious communities, as well as with the public. It conveys the researchers' expertise on current issues to the public outside the universities and provides considered knowledge to diverse target groups with the aim of helping orient current debates within a broader social, legal, political, ethical or historical context.
The Centre for Research Communication's concept for the humanities and the social sciences quickly became a model across Germany. It now publicly shares its own experience with the requirements and modes of action of communicating research.
Media Relations and Social Media
The centrepiece of the Cluster of Excellence's outreach is its national and international media relations, for which the Centre for Research Communication identifies research findings' social relevance, disseminates them in multimedia formats and thereby achieves a wide reach. The expertise of the researchers from more than 20 subjects is thus integrated into current debates. In print and online media as well as in radio and television, the public is regularly informed about the Cluster of Excellence's research results. The media relations, which are supplemented by social media and coordinated with the University Press Office's university-wide communication, have met with great public interest for years. Through such media relations, topics could often be promoted which had previously met with little public attention.
Invitations to lectures and to panels in foundations, political committees, schools, museums, educational institutions, religious associations and schools of journalism follow in what often becomes a snowball effect. Research communication thereby gives rise to further forms of transfer such as political consulting and the transfer of research results to various areas of society. Added to this are the website www.religion-und-politik.de/en, which is kept up-to-date and has multimedia on offer, and a newsletter with more than 2,200 subscribers from academies, foundations, museums, schools of journalism, as well as political and religious institutions.
Training in discipline-specific research communication
The Centre for Research Communication organises training in discipline-specific research communication for young academics, which will also be open to students of the future master's programme "Religion and Politics", as well as interview training for researchers. It offers students of the humanities and the social sciences professional taster placements and provides information in workshops on choosing a career.
Discussion and Cultural Events
As part of its research outreach, the Centre for Research Communication organises many other transfer formats, ranging from consultations for politicians and community representatives, through digital information and educational materials, to public fora and cultural events for citizens of various age groups, such as exhibitions, film series, concerts, lectures, book launches and panel discussions. These are coordinated in cooperation with institutions outside the University such as museums, publishing houses, trusts, educational institutions, schools of journalism, cinemas, choirs and schools.
Campus of Religions
The transfer activities will in future be continued on a "Campus of Religions", the only one of its kind in Germany. From 2023, it will bring together Protestant, Catholic, Christian Orthodox and Islamic theology as well as institutions of non-denominational religious studies at the University of Münster, promoting interdisciplinary academic exchange. As a location and as a public brand, the campus in the city of the Peace of Westphalia lends itself to being a neutral platform for mutual understanding in the conflict-laden field of "religion and politics". It is to become a venue for the exchange between leading national and international representatives from academic, political, religious and ideological communities and non-governmental organisations, the media, culture and the arts.
Political Consulting
A focus of the transfer activities of the Cluster of Excellence is on consulting politicians and other stakeholders, such as from religious or ideological communities and non-governmental organizations, who have a high degree of professional interest in the research findings of the Cluster. Topics include integration and migration, religious freedom and religious policy, religiously motivated violence, and the communication of values. With the research and transfer focuses "Religious Politics" and "Dealing with Religious Plurality", the Cluster of Excellence has called attention to a policy area that had previously been scarcely considered in federal, state and local politics.
Transfer at the University of Münster
The University Management of the University of Münster attaches great importance to the transfer of research findings to wider society, and wishes to expand and consolidate such transfer. The Cluster of Excellence will contribute its experience and knowledge to the further development of the transfer strategy, and will help to connect and advise other faculties and research networks at the University. A holistic university transfer structure is to be created in this way, one that takes into account the fact that specialised research transfer is currently under development at German universities.