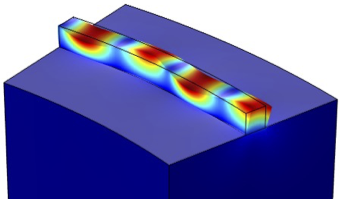 Willkommen bei der / Welcome to the
Hybrid Quantum- and Nanosystems Group
Professor Dr. Hubert Krenner
Controlling light, sound and matter on a chip.
Join our team
Abschlussarbeiten und zwei Promotionsstellen (75% E13)
Unser Gruppe wächst: in unseren neu renovierten und ausgestatteten Laboren können wir Ihnen endlich spannende Themen für Bachelor- und Masterarbeiten anbieten.
(In Kürze) frischgebackenen Masterabsolventinnen und -absolventen bieten zwei Promotionsstellen (75% TV-L E13) finanziert durch die Deutsche Forschungsgemeinschaft ideale Rahmenbedingungen, an spannenden Fragestellungen der integrierten Phononik zu forschen und zu promovieren.
Interesse geweckt? Eine kurze Email an  Professor Krenner genügt und wir freuen uns mit Ihnen gemeinsam mögliche Themen persönlich zu besprechen.
---
Bachelor and MAster Thesis PROJECTS and two PhD positions
The group is growing: join us to conduct cutting-edge research in our newly refurbished labs. We are offering attractive Bachelor or Master thesis projects.
We are inviting applications for two PhD positions (TV-L E13 75%). These positions are fully funded by  Deutsche Forschungsgemeinschaft (DFG) and provide an ideal setting to conduct cutting edge research at the intersection between solid state nanophysics and on-chip microwave signal processing.
Please contact  Professor Krenner for a personal appointment to discuss possible topics and opportunities.