Outstanding Reviewer 2018
Prof. Gerhard Wilde and private lecturer Dr. Divinskiy were honoured as outstanding reviewers 2018 for the journal Acta Materialia.

Dr. Friederike Emeis (AG Wilde),
Dr. Vitalij Hieronymus-Schmidt (AG Wilde) and
Dr. Niklas Nollmann (AG Wilde)
finished their doctorate:
With the certificate, which was handed by Prof. Dr. Wilde (Dean of the Physics Department) on February 1st, 2019, it became official. Congratulation!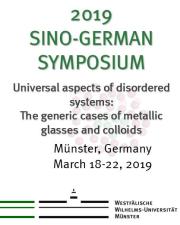 Bachelor's and master's degrees from the winter term 2018/2019
We congratulate

Maximilian Demming and Konstantin Lamp on his bachelor's degree and
Moritz Hautmann on his master's degree!


Latest Publications
Hilke, S., Kirschbaum, J., Hieronymus-Schmidt, V., Radek, M., Bracht, H., Wilde, G., & Peterlechner, M.
Analysis of medium-range order based on simulated segmented ring detector STEM-images: amorphous Si
Ultramicroscopy 200 (2019) 169-179, https://doi.org/10.1016/j.ultramic.2019.02.023

The influence of deformation on the medium-range order of a Zr-based bulk metallic glass characterized by variable resolution fluctuation electron microscopy
Sven Hilke, Harald Rösner, David Geissler, Annett Gebert, Martin Peterlechner, Gerhard Wilde
Acta Materialia 171 (2019) 275-281.
https://doi.org/10.1016/j.actamat.2019.04.023
Study of heavy ion beam induced damage in tungsten for high power target applications
Habainy J., Lee Y., Surreddi K.B., Prosvetov A., Simon P., Iyengar S., Dai Y., Tomut M. (2019)
Nuclear Instruments and Methods in Physics Research Section B: Beam Interactions with Materials and Atoms
Volume 439, 15 January 2019, Pages 7-16; https://doi.org/10.1016/j.nimb.2018.11.017
Tracer Diffusion in the Ni-CoCrFeMn system: Transition from a dilute solid solution to a high entropy alloy
Josua Kottke, Mathilde Laurent-Brocq, Adnan Fareed, Daniel Gaertner, Loïc Perrière, Łukasz Rogal, Sergiy V. Divinski and Gerhard Wilde
Scripta Materialia, Volume 159, 94-98, 2019
 https://doi.org/10.1016/j.scriptamat.2018.09.011
Tracer diffusion in single crystalline CoCrFeNi and CoCrFeMnNi high entropy alloys
Daniel Gaertner, Josua Kottke, Yury Chumlyakov, Gerhard Wilde and Sergiy V. Divisnki
Journals of Materials Research, Volume 33, Issue 19 (Focus Issue: Fundamental Understanding and Applications of High-Entropy Alloys)
3184-3191, 2018   
https://doi.org/10.1557/jmr.2018.162
The influence of sputter conditions on the properties of LiPON and its interfaces
Jouybari, YH; Berkemeier, F; Schäfer, A; Schmitz, G
JOURNAL OF POWER SOURCES, Volume: 394 Pages: 160-169 DOI: 10.1016/j.jpowsour.2018.05.023 To be published: AUG 2018