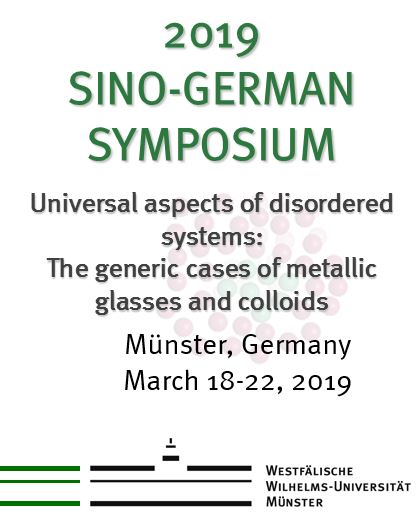 SCOPE OF THE SYMPOSIUM
While metallic glasses are disordered systems with rather simple atomic interactions, colloids allow manipulations and observations on the single particle level. Both these material classes present models of disordered systems allowing analyses of structure-property relations and materials' response upon external excitations with complementing opportunities with the focus on heterogeneous dynamics, shear localization, shear band formation and avalanche dynamics.
The symposium present a unique platform to utilize the complementing generic advantages, control parameters and specific analysis tools available for these two different classes of disordered materials and to approach a unified view concerning the underlying physical mechanisms that lead to system-independent universal behavior of disordered systems with respect to glass relaxation, aging, rejuvenation and shear response.
We expect in-depth discussions during the symposium and collaborations emerging from these discussions will contribute to deepen the understanding of metallic glasses and glass-formation.
Both theoretical and experimental aspects of metallic and colloidal glasses and their dynamics will be addressed. We believe that the similarities and differences of metallic glasses and colloidal glasses resembling hard-sphere systems are valuable to be explored since both types of systems complement each other, especially concerning the options for manipulation and structure-property correlations.

More information...
Registration (possible until 15th Febuary 2019)...