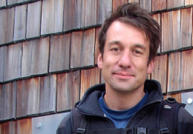 News

2017

© Christian Härting

December: Two applied MSc theses or research projects available: Satellite-tracking Montagu's Harriers and Northern Lapwing nest survival in relation to nest protection measures
November: Developing scenarios of future agricultural development and its implications for biodiversity with stakeholders in Astana, Kazakhstan [more]

News-Archiv

2017

Field Trip Western Siberia 2017 - A massive mire in the Nadym river valley, characterized by a constant water flow through the peat layers© Johannes Kamp

© OSME

2016

© Simba Chan

November: From research to action - international workshop on the globally threatened Yellow-breasted Bunting and land bird monitoring in Asia (Guangzhou, China). Summary
October: Our Special issue of Biodiversity and Conservation on the ecology and conservation of the Palearctic steppes is now out, including a new synthesis paper.
September: New collaboration: PhD student Stepan Boldyrev receives prestiguous scholarship of the Russian president for a six month research stay in our group. He will start to look into population trends of Western Siberian songbirds.

© Tomás Václavík

August: Hot off the press: Are our results on sustainable land management transferable to other regions of the world? New paper by  Tomáš Václavík with contributions from our project SASCHA.

© Johannes Kamp

© Irina Grigoreva

July: New paper out: How useful are casual records submitted to public online databases for animal population monitoring? [doi: 10.1111/ddi.12463 ].
June: Bird and insect surveys continued across the large 'savannas' of Northern Hesse's massive coppiced woods (Germany).
May: Fieldwork in Kazakhstan: disentangling the effects of fire and grazing on small mammal abundance [pictures]
April: Our research on Black Larks featured in the Audubon (BirdLife US) magazine.
April: Mapping birds in Germany's largest remaining coppiced woods, Northern Hesse (BSc theses Josef Kallmayer and Julian Koch )
March: Satellite-tagged Sociable Lapwings   reveal stopover sites in Turkmenistan and Uzbekistan – report now out! [pdf ]

© Klaus Nigge

February: Three papers now in press for a forthcoming special issue of Biodiversity & Conservation on the Palearctic Steppes:


2015

October: Combining satellite tracking and ground surveys to study the migration of Sociable Lapwings from Kazakhstan to Africa and India [updates]

© Huang Qiusheng

Press release BirdLife International

Press release University of Münster 

Media coverage: Science, Nature, The Guardian, SWR radio feature

May: Fieldwork in Kazakhstan – counting birds on the Great Steppe

2014

December: The data  of our autumn bird migration counts from the institute's roof is now entered, checked and available for citizen science analyses
October: Funding for new three-year research project granted by the VolkswagenStiftung: Trade-offs between agriculture and biodiversity on the steppes of Kazakhstan. More
September: New paper out on breeding performance of Northern Lapwings . Can urban brownfields compensate for some biodiversity loss caused by agricultural intensification?
Research Interests
Biodiversity monitoring in structured schemes and through unstructured citizen science data
Land-use change effects on biodiversity and carbon stocks
Agriculture–biodiversity trade-offs and sustainable land management
Socio-ecological systems and the persistence of cultural landscapes
Biodiversity of the Eurasian steppes
Animal migration
Projects
current projects
BALTRAK - Balancing trade-offs between agriculture and biodiversity in the steppes of Kazakhstan
CopWoods - The biodiversity of traditional socio-ecological systems: Large coppiced woods in Germany
finished projects
Publications
International publications (peer-reviewed)
* Papers of supervised MSc students
 submitted
Stirnemann IA, Hölzel N, Urazaliev R, Kuemmerle T, Baumann M, Donald PF, Kamp J (submitted) Past land-use and fire history affect occurence and density of Eurasian steppe birds
2017
2016
Václavík T, Langerwisch F, Cotter M, Fick J, Häuser I, Hotes S, Kamp J, Settele J, Spangenberg J, Seppelt R (2016) Investigating potential transferability of place-based research in land system science. Environmental Research Letters 11: 095002 [doi:10.1088/1748-9326/11/9/095002]
Kamp J, Oppel S, Heldbjerg H, Nyegaard T, Donald PF (2016) Unstructured citizen science data fail to detect long‐term population declines of common birds in Denmark. Diversity and Distributions 22 (10): 1024–1035 [doi: 10.1111/ddi.12463]
Five papers in a special issue on Palearctic steppes:
2015
Kamp J, Urazaliev R, Balmford A, Donald PF, Green RE, Lamb A, Phalan B (2015) Agricultural development and the conservation of avian biodiversity on the Eurasian steppes: a comparison of land-sparing and land-sharing approaches. Journal of Applied Ecology 52: 1578–1587  [doi: 10.1111/1365-2664.12527]
Fijen TPM*, Kamp J, Lameris TK, Urazaliev R, Pulikova G, Kleijn D, Donald PF (2015) Functions of extensive animal dung 'pavements' around the nests of the Black Lark Melanocorypha yeltoniensis. The Auk 132: 878–892 [doi: 10.1642/AUK-15-38.1]

Kamp J, Oppel S, Ananin AA, Durnev YA, Gashev SN, Hölzel N, Mishchenko AL, Pessa J, Smirenski SM, Strelnikov EG, Timonen S, Wolanska K, Chan S, (2015) Global population collapse in a superabundant migratory bird and illegal trapping in China. Conservation Biology 29: 1684–1694  [doi:10.1111/cobi.12537]
Kamp J, Pelster A, Gaedicke L, Karthäuser J, Dieker P, Mantel K (2015) High nest survival and productivity of Northern Lapwings Vanellus vanellus breeding on urban brownfield sites. Journal of Ornithology 156: 179–190 [doi: 10.1007/s10336-014-1114-0]
Sutcliffe L, Batáry P, Kormann U, Baldi A, Dicks LV, Herzon I, Kleijn D, Tryjanowski P, Apostolova I, Arlettaz R, Aunins A, Aviron S, Balezentiene L,  Fischer C,  Halada L, Hartel T, Helm A, Hristov I, Jelaska SD, Kaligarič M, Kamp J, Klimek S, Koorberg P, Kostiukova J, Kovács-Hostyánszki A, Kuemmerle T, Leuschner C, Lindborg R, Loos J, Maccherini S, Marja R, Máthé O, Paulini I, Proença V, Rey-Benayas J, Sans FX, Seifert C, Stalenga J, Timaeus J, Török P, van Swaay C, Viik E, Tscharntke T (2015) Harnessing the biodiversity value of Central and Eastern European farmland. Diversity and Distributions 21: 722-730 [doi: 10.1111/ddi.12288]
2014 and earlier
Other Publications
Härting Ch, Illner H, Kamp J (2017) Die Nutzung von Fotofallen zur Quantifizierung von Beuteeinträgen brütender Wiesenweihen Circus pygargus. Vogelwelt 137(4): 404 – 410 Download
Hoppmanns H, Kamp J, Burkhard B (2016): Einfluss der Beweidung im Naturschutzgebiet Schleimündung: Reaktionen ausgewählter Brutvogelarten auf die Veränderung der Schilfflächen. Seevögel 37:16-20 Download
Donald  PF, Azimov N, Ball E, Green RE, Kamp J,  Kashkarov R, Kurbanov A, Rustamov E, Saparmuradov J, Sheldon R, Soldatov V, Ten A, Thorpe R, Underhill M, Urazaliyev R, Veyisov A (2016) Discovery of a globally important migration staging site for Sociable Lapwings Vanellus gregarius in Turkmenistan and Uzbekistan. Sandgrouse 38: 82 - 95 Download
Stolbov VA, Kuzmin IA, Ivanov SA, Kamp J (2016) Northward shift of arthropod distribution ranges in the Tyumen and Kurgan provinces of Russia. Eurasian Entomological Journal 15:99-103
Kamp J (2013) Book review: 'Birds of Central Asia' by R. Aye, M. Schweizer and T.Roth. Ibis 155:681–682
Sheldon RD, Koshkin MA, Kamp J, Dereliev S, Donald PF, Jbour S (2012) International Single Species Action Plan for the Conservation of the Sociable Lapwing (Vanellus gregarius). CMS Technical Series No. 28, AEWA Technical Series No. 47. Bonn, Deutschland Download
Urazaliev R, Iskakov T, Kamp J (2012) Aggressive intraspecific behaviour in Black Larks Melanocorypha yeltoniensis in winter. British Birds 105: 40–42
Kamp J (2011) "The Amazing Journey" - der Zug des Steppenkiebitzes. Der Falke 58: 101–103 Download
Kamp J (2010) Große Trupps und starke Bejagung – Neues vom Steppenkiebitz. Der Falke 57: 113–115 Download
Kamp J, Sohni V (2008) Die Vogelwelt der Ostfriesischen Inseln. In: Niedringhaus R, Haeseler V, Janiesch P (Hrsg.) Die Flora und Fauna der Ostfriesischen Inseln. Schriftenreihe Nationalparkverwaltung Niedersächsisches Wattenmeer 11, Wilhelmshaven: 421–439   
Kamp J (2008) Forschung an einer weltweit bedrohten Vogelart – der Steppenkiebitz. Der Falke 55: 130–135 Download
Kamp J, Grishina KV (2008) Rooks killing adult Black-tailed Godwit. British Birds 101: 447
Kamp J (2007) Verbreitung, Bestand und Habitatnutzung des Mittelspechts Dendrocopos medius in NW-Niedersachsen. Vogelkundliche Berichte aus Niedersachsen 39: 77–96
Kamp J, Sohni V (2006) Habitat use and population densities of the Middle Spotted Woodpecker Dendrocopos medius caucasicus in the NW Caucasus mountains (Russia). Vogelwelt 129: 69–75
Recent Conference Presentations