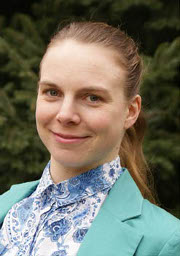 Dr. Jenny Schmidt

Research Group
Applied Landscape Ecology and
Ecological Planning
Institute of Landscape Ecology
Heisenbergstraße 2, 48149 Münster
Curriculum vitae

2016-10/2018

Research assistant at the Institute of Landscape Ecology, Working Group "Applied Landscape Ecology and Ecological Planning", WWU Münster

7/2018

Graduation (Dr. phil.) in Landscape Ecology, University of Münster, Institut of Landscape Ecology.

"Green infrastructure – creating habitats with agirculture"

2013-2016
PhD candidate, Department of Environmental Politics, UFZ and the Working Group "Applied Landscape Ecology and Ecological Planning", WWU Münster
2008-2012
Arvato direct services GmbH, Muenster, customer service, coaching and quality management
2003-2004, 2005-2006
Research in South Africa
2000-2012
Studies of landscape ecology, political science and social geography at the University of Muenster

Research / Fields of interest

    Green infrastructure, biodiversity in agricultural landscapes, environmental planning
    Land-use conflicts and participatory methods
    European and German environmental and agricultural politics
    Science communication, transfer and ethics


Research projects

Past projects

European Conservation for the 21st century (BiodivERsA): WP 6: Socio-political scenarios for the local implementation of landscape conservation
In our sub-project "Green Infrastructure – creating habitats with agriculture" we study implementation options of the EU-strategy for Green Infrastructure. We cooperate with local land-users and regional stakeholders and conduct a policy analysis.

Publications

Oppermann, R., Sutcliffe, L.M.E., Arndt, J., Gottwald, F., Jedicke, E., Keelan, S., Kretzschmar, C., Meyerhoff, E., Metzner, J., Ochsner, S., Pfeffer, H., Schmidt, J., Stein-Bachinger, K., Wiersbinski, N., 2018. Naturwertfördernde Maßnahmen und Natur-Agrar-Beratung - fünf Anforderungen. Natur und Landschaft 120–124. doi.org/10.17433/3.2018.50153559.120-124
Zinngrebe, Y., Pe'er, G., Schueler, S., Schmitt, J., Schmidt, J., Lakner, S., 2017. The EU's ecological focus areas – How experts explain farmers' choices in Germany. Land Use Policy 65, 93–108.

doi.org/10.1016/j.landusepol.2017.03.027

Schmidt, J. & Hauck, J. (2017): Implementing green infrastructure policy in agricultural landscapes—scenarios for Saxony-Anhalt, Germany. Reg Environ Change. doi: 10.1007/s10113-017-1241-2
Pe'er,G.; Zinngrebe,Y.; Hauck, J.; Schindler, S.; Dittrich, A.; Zingg, S.; Tscharntke, T.; Oppermann, R.; Sutcliffe, S.; Sirami, C.; Schmidt, J.; Hoyer, C.; Schleyer, C; Lakner, S. (2016): Adding some green to the greening: improving the EU's Ecological Focus Areas for biodiversity and farmers. Conservation Letters, doi: 10.1111/conl.12333
Hauck, J.; Schmidt, J. & Werner, A. (2016): Using social network analysis to identify key stakeholders in agricultural biodiversity governance and related land-use decisions at regional and local level. Ecology and Society 21 (2), 49. DOI: 10.5751/ES-08596-210249
Schröter-Schlaack, C. & Schmidt, J. (2015): Ökosystemleistungen grüner Infrastrukturen. RaumPlanung 180, 16-21.
Pe'er, G., L. V. Dicks, P. Visconti, R. Arlettaz, A. Báldi, T. G. Benton, S. Collins, M. Dieterich, R. D. Gregory, F. Hartig, K. Henle, P. R. Hobson, D. Kleijn, R. K. Neumann, T. Robijns, J. Schmidt, A. Shwartz, W. J. Sutherland, A. Turbé, F. Wulf, A. V. Scott (2014): EU agricultural reform fails on biodiversity. Science 6 June 2014: 344 (6188), 1090-1092. [DOI:10.1126/science.1253425]
Hauck, J.; Schweppe-Kraft, B.; Albert, C.; Görg, C.; Jax, K.; Jensen, R.; Fürst, C.; Maes, J.; Ring, I.; Hönigová, I.; Burkhard, B.; Mehring, M.; Tiefenbach, M.; Grunewald, K.; Schwarzer, M.; Meurer, J.; Sommerhäuser, M.; Priess, J.A.; Schmidt, J. & Grêt-Regamey, A. (2013): The Promise of the Ecosystem Services Concept for Planning and Decision-Making. GAIA – Ecological Perspectives for Science and Society 22 (4), 232-236.
Schmidt, J.A. & Buttschardt, T.K. (2011): Addressing the information needs of small-scale rooibos farmers in rural South Africa can help to combat desertification and improve livelihoods. In: Runge, J. & Becker, E. (Ed.): Afrika 2010 – Natürliche Ressourcen und nachhaltige(?) Entwicklung. Jahrestagung der Afrikagruppe deutscher Geowissenschaftler (AdG) 2010 in Frankfurt. Zentralblatt für Geologie und Paläontologie, 1, 2009 (1/2).