Boosting research with lab4you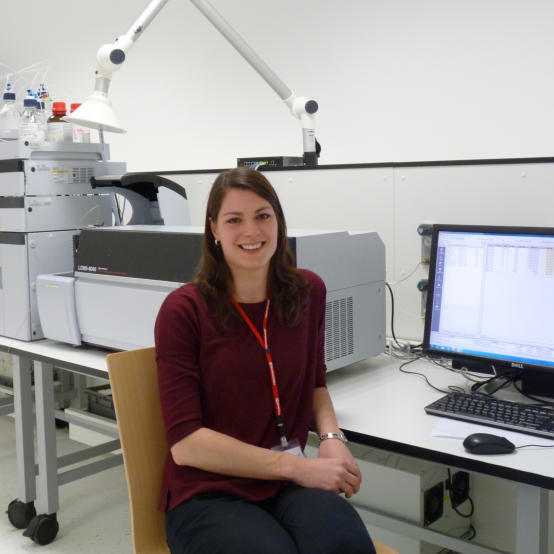 Carola Schultz, Ph.D. student at the MEET battery research center of the University of Münster was one of the two successful candidates, that Shimadzu, one of the world's largest provider of analytical instrumentation, chose for their prestigious lab4you student program. This offered her the great opportunity to gain insight into the working world and above all to perform her research in the comprehensive Laboratory World of Shimadzu Europe in Duisburg.
"During the lab4you program at Shimadzu, I got the possibility to choose different devices in the Laboratory World for my research, including permanent measuring time. This expanded and improved my research on the investigation of organic electrolytes with High Performance Liquid Chromatography (HPLC) significantly.
Compared to the analytical devices LC and LC coupled to a single quadrupole mass spectrometer I predominantly work with at MEET, in Duisburg I had the chance to work with LC-IT-TOF-MS and LC-MS/MS. These devices enabled me to go deeper – qualitatively as well as quantitatively – into the matter and thus to elucidate and identify several aging product structures in organic electrolytes of lithium-ion batteries. As aging of lithium-ion batteries decreases their capacity and thus their lifetime, the analysis of aging products is very important.
Because of the extensive research environment, providing the unique possibility to work with devices that are best suited and tailored for the own research, I highly recommend other students to apply for the lab4you student program. Further, the working atmosphere was supportive and motivating: I worked independently on my topic of research. A product specialist introduced me in detail into the devices used. During the whole stay, there were always product specialists available for further inquiries – it was a perfect balance of freedom of research and mentoring.
All in all, I had a very good time at Shimadzu: I was able to generate a lot of valuable results for my work and additionally, I had the possibility to get interesting insights into the working world."
By now, Carola Schultz has returned to the University to take on the next step: Analyzing and interpreting the gained data by means of the electrochemical know-how located in Münster.
About Shimadzu:
Shimadzu offers a multitude of products, encompassing Analytical and Measuring Instruments and Medical Systems. The Analytical Division is one of the world´s largest providers of analytical instrumentation and environmental monitoring equipment. Shimadzu was founded in 1875 and has its place of business and origin in Kyoto, Japan. Today it offers its customers a worldwide network of subsidiaries in 76 countries, with circa 10.000 employees.
Shimadzu
Lab4you