ECREA Lissabon 2014 mit zahlreichen IfK-Vorträgen
(15.05.2014) Die europäische Forschergemeinschaft European Communication Research and Education Association (ECREA) richtet vom 12. bis zum 15. November 2014 ihre fünfte internationale Konferenz in Portugal aus. Gastgeber ist die private Universität Lusófona in Lissabon. Zum diesjährigen Konferenzthema "Communication for Empowerment: Citizens, Markets, Innovations" sind 21 Beiträge vom Institut für Kommunikationswissenschaft angenommen worden.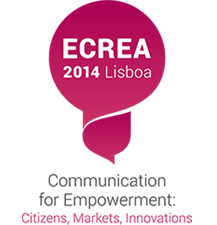 Das Leitthema der ECREA-Konferenz "Communication for Empowerment: Citizens, Markets, Innovations"  beinhaltet beispielsweise, wie soziokulturelle und technische Medienentwicklungen die Mobilisierung und Partizipation beeinflussen, wie User-generated Content den Informationsfluss prägt und transnationale Räume schafft. Im Blickpunkt steht dabei auch das Spannungsfeld von öffentlichen Interessen und Marktinteressen im Kommunikationssektor. Das Institut für Kommunikationswissenschaft der WWU Münster ist mit insgesamt 21 Themenbeiträgen in den verschiedenen Fach- und Arbeitsgruppen auf der ECREA-Konferenz vertreten:
Birkner, Thomas/Engesser, Sven (Universität Zürich): "Five Meta-Cycles of Life: The Evolution of Participatory News Media from 1790 to 2020." (Journalism Studies)
Buhl, Florian/Günther, Elisabeth/Quandt, Thorsten: "No Time to Think? A Big-Data Approach to Studying News Diffusion Processes Among Online News Websites." (Journalism Studies)
Festl, Ruth/Scharkow, Michael/Quandt, Thorsten: "The Misperception of Cyberbullying Norms among High School Students." (Interpersonal Communication and Social Interaction)
Haake, Gianna/Väth, Judith: "Why Bother? The Importance of Issue Sensitivity for the Agenda-Setting Process." (Audience and Reception Studies)
Hamachers, Annika: "Does Narrativity Enhance Entertainment? An Investigation into Defining Narrative Features and Their Impact on Entertainment." (Audience and Reception Studies)
Herbers, Martin (Zeppelin Universität Friedrichshafen)/Kohler, Sarah/Middendorf, Hannah/Volpers, Anna-Maria/Zaynel, Nadja: "Ready, Steady, Cook! German TV Cooking Shows as a Mirror of Social Change – a Cultural-Historical Analysis." (Television Studies)
Kohler, Sarah: "Procrastination and Media Use as Escapism." (Audience and Reception Studies)
Marcinkowski, Frank/Flemming, Felix: "The Bycatch of Social Networks. Extent and Effects of Incidental Online Exposure to the German National Election Campaign." (Political Communication)
Marcinkowski, Frank/Starke, Christopher: "How the News Media Affect Trust in Mediated Politics." (Communication & Democracy)
Marcinkowski, Frank/Strippel, Christian (FU Berlin): "Newspaper Competition and Congruence in German Municipalities: Which Kind of Media Environment Serves Democratic Accountability Best?" (Political Communication)
Metag, Julia (Universität Zürich)/Marcinkowski, Frank: "Predictions of Electoral Outcomes Based on Trait Inferences from Portrait Photographs." (Political Communication)
Middendorf, Hannah: "News Agency Journalists and the European Union – More than Just Raw Material?" (Journalism Studies)
Müller, Kathrin Friederike/Röser, Jutta/Niemand, Stephan: "Convergence as an Addition: The Interplay of Old and New Media in German Households." Teil des internationalen Panels mit Peil, Corinna und Sparviero, Sergio (Universität Salzburg, Österreich)/Balbi, Gabriele (Università della Svizzera italiana – USI Lugano, Schweiz)/Jin, Dal Yong (Simon Fraser University, Kanada)/Barra, Luca und Massimo Scaglioni (Università Cattolica Milan, Italien): "Drifting Together and Apart: Media Convergence Revisited." (Digital Culture and Communication)
Röser, Jutta/Müller, Kathrin Friederike/Roth, Ulrike/Peil, Corinna (Universität Salzburg): "Mobile Media as Domestic Media: Mediatization, Community, and Connectivity at Home." (Digital Culture and Communication)
Scheu, Andreas/Nölleke, Daniel/Zerrer, Nicole/Meiring, Jochen/Boberg, Svenja: "The Point of Reference for Mediatization Processes. What Stakeholders Perceive as the Logic of Journalism." (Journalism Studies)
Starke, Christopher/Marcinkowski, Frank/Wintterlin, Florian: "Social Media, Impression Formation of Politicians and Trust in Politics." (Political Communication)
Starke, Christopher: "The Media's Impact on Reducing Corruption – A Cross-National Analysis." (Political Communication)
Väth, Judith/Haake, Gianna/Gehrau, Volker: "Deep Cuts? The Development of Fragmentation and Issue Diversity in the Internet Age." (Audience and reception studies)
Völker, Julia/Scholl, Armin: "Hidden Assumptions and Implicit Normative Conclusions: A Constructivist Critique of the Research on Environmental Media Coverage." (Philosophy of Communication)
Zaynel, Nadja: "Internet Use and Down Syndrome". (Audience and Reception Studies)

Die internationalen ECREA-Konferenzen finden inzwischen im Zwei-Jahres-Rhythmus in wechselnden europäischen Metropolen statt. In Lissabon werden im Umfeld der Hauptkonferenz diesmal auch Preconferences und ein Symposium organisiert. Gegründet wurde die Non-Profit-Gesellschaft aus dem Zusammenschluss zweier europäischer Forscherorganisationen im Jahr 2005 auf ihrer ersten Konferenz in Amsterdam. Sie widmet sich in 17 Fachgruppen, 3 Netzwerken und 7 weiteren auf vier Jahre begrenzten Arbeitsgruppen dem wissenschaftlichen Austausch zum Thema Medien, Kommunikation und Informatik unter Einbezug von Erkenntnissen aus verwandten Geistes- und Sozialwissenschaften. Aktuell hat die ECREA mehr als 2.700 individuelle Mitglieder.
Ansprechpartnerin Presse- und Öffentlichkeitsarbeit:
Magdalena Bollmann
Wissenschaftliche Mitarbeiterin
Telefon: +49 251 83-24653
Telefax: +49 251 83-21310 (Geschäftszimmer IfK)