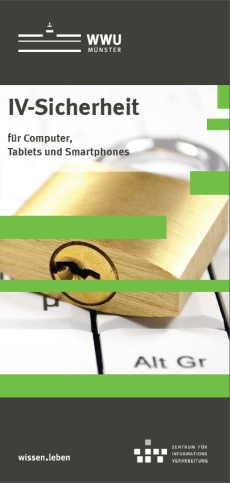 Our security advices
Everyone who uses the internet is in permanent danger of attacks. Especially malware may infect PCs and sometimes render operating system or data unusable or spy on personal data and passwords. There are numerous preventive measures. However, if it is already too late and  your PC got infected the ZIV user support or the WWU-CERT can give you helpful advice.
The information we provide here is also gathered in a flyer. Unfortunately by now it is only available in german. In the flyer and on these sites are some tips for students and employees of the WWU who want to protect their PC, notebook or tablet against threats from the internet. These web pages should give you a basic understanding of various topics and solution strategies which are part of IT security baselines.