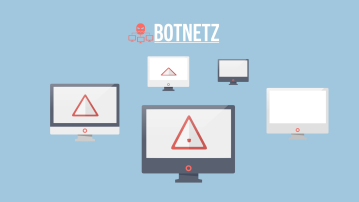 Threats on the Internet
What can happen?
Internet users are at constant risk from different attacks and many people do not see the amount of damage such attacks can pose, if successfully performed. Some of the most widespread and dangerous consequences are:
Identity theft – Criminals use login credentials of other people to for example perform purchases at their expense, access private files in cloud storages, register for exams on their behalf or send e-mails from their address.
Exfiltration, manipulation or deletion of personal files – A very popular method for criminals at the moment is the encryption of personal files and demanding ransom for the decryption key afterwards.
Remote control of computers – Criminals use infected computers for criminal activities like DDoS-attacks, sending spam e-mails or infecting other devices.
Malicious Software
Malicious software, often shortened to malware, is software, which was created for criminal activities. There are many different types of malware, e.g. viruses (manipulate files or the operating system), spyware (used to steal personal information), Trojans (open back doors for attackers) or ransomware (encrypts personal files). Modern malware often combines multiple types and often can download additional parts for more functions. Infected devices are often combined to so-called botnets.
The infection of a device can happen in many ways. The most widespread method are infected e-mail attachments. Criminals try to hide malware in unsuspicious looking files, e.g. picture files, in e-mail attachments and try to persuade the user to open it. Websites can also offer infected files for download which often are disguised as some useful and free software for example. But not all infections need user interactions. Criminals can try to use security issues in software, like the internet browser, to infect computers as well. Sometimes they even manage to gain access over legitimate websites and replace files with infected ones. Less widespread but still possible are infections through external devices, such as USB flash drives.