Basic protection by current security standards
Up-to-date software is the main instrument to protect devices which are connected to a network, especially the internet, like notebooks, desktop computers but also smartphones and tablets. Most important to keep up-to-date are the operating system and applications that communicate over the network, e.g. an internet browser or an e-mail application. But other out-of-date application software can be dangerous too because it might be another opportunity to infect your system, for example with malware (see Threats on the Internet) disguised as media files which use bugs in a media player. Since updates or patches can not only improve security but also usability and stability of software, they should be installed regularly and in a timely manner. Devices with discontinued manufacturer support and without regular updates may only be used in the WWU network to a limited extent.
Hints for software updates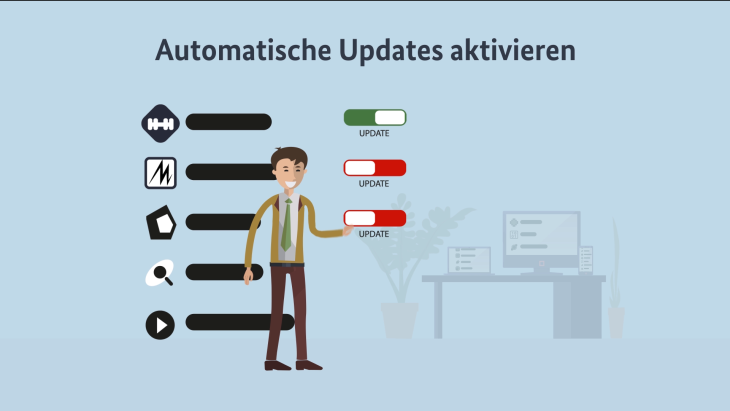 Prior to productive use of a new device all operating system updates must be installed1 and automatic updates must be enabled (see  Microsoft Windows FAQ for Windows updates).
Security-critical applications, especially internet browsers, e-mail applications or online banking applications, have to be configured correctly and carefully and have to be updated as soon as new updates are available.
Only download software from the official manufacturer's website. Consider comparing given checksums with the downloaded files (see HashCheck) to confirm the authenticity of software before installing.
Many applications already come with their own updater which automatically downloads and installs the latest updates in the background. This option should always be enabled.
Some products unfortunately have to be updated manually. Check such software for updates regularly and start the update process (there often is an update function in the "About"- or "Help"-entry in the menu bar) or download the latest version from the manufacturer's website and install it manually.
There are additional programs, like Flexera Software Inspector (PSI), which check all installed software for updates.
---
1 The WSUS Offline Update Tool can be used to securely install updates for the Microsoft Windows operating system and Microsoft Office products without having to connect the new device to the internet. You can download all required updates on another already secure computer and install them offline and all together on the new device. The software will guide you through this process.
Support for updating software
The ZIV always tries to keep software, which is used and available on the PC workstations around the WWU and on the terminal servers (virtual desktop environments), securely configured and up-to-date. You can contact the ZIV via the help desk or the ZIVLine (service hotline) for questions or suggestions. Software downloaded from the ZIV needs to be updated like any other piece of software. Use the methods explained above for this purpose.
Official devices for employees are normally maintained by an IT-administrator. When you have any questions or suggestions contact the IVV (IT Support  Unit) responsible for you. According to the Regulations for IT security [de] all users of the WWU's IT systems must follow the security standards for configuration and usage of their devices. These security standards are determined by the IV-Security Team.
Members of the university which need help with updating their privately used devices can visit the ZIV user support in person or call the ZIVLine (service hotline).