Team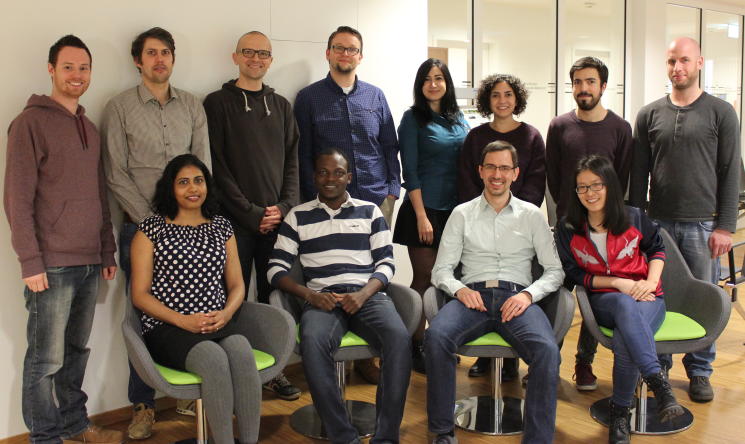 (PhD student)
(Postdoctoral researcher)
(PhD student)
Proximity­based opportunistic information sharing and privacy protection
Show abstract
This research focuses on empowering citizens of smart cities to take control over their digital privacy while using location based services (LBS) and sharing information opportunistically.
Ubiquitous mobile devices and pervasive computing have been supporting the integration of context­aware services in everyday lives. Location based services have been growing enormously because of their contextual real time benefits to users, for instance receiving the latest retail offer while entering a mall, finding friends in music festival, checked­in tags in social networks and finding directions in digital maps.
However, location based services can bring both ease and complexity to citizens lives. Location information is fundamental to LBS but it is also considered sensitive and personal. In that way, one of the consequences of having access to location information is being tracked or monitored.
Taking the previous into account, there are reasonable questions to ask about location information: Who can have access to this information? Where it is being stored? Who is responsible for reusing it? The aim of this research is to explore the perception about privacy in location based services from an end user perspective with the main focus on opportunistic information sharing. Although p rivacy perception depends on a number of factors including individual, cultural background and type of technology, it is still essential to know why and how are citizens using location based services and how they manage their privacy? It is also relevant to understand, what is the threshold for citizens to use or reject a service?
In that sense, this study will investigate user's attitude toward privacy concerns and location information disclosure to both service providers and individuals.
The selected scenario is engaging Citizens in decision-making processes in the context of urban planning. In my research, I focus on a specific technology, i.e. public display systems. My research focuses on how can public display system engage common citizens in participating in decision-making process in the context of urban planning?Some essential parts to answer the proposed question are tacked: what are the barriers in different stages in decision-making process and how can public displays provide services to overcome these barrier.The expected result would be: identified barriers that discourage to participate in a public decision-making process and strategies to overcome these barriers by using public display system;features of an attractive public display system that make the public awared of using it for learning and sharing knowledge and information and thus can be well integrated in decision-making process;new design methods and/or adaptations for current public display techniques to enable the public display to manage  the participation process.
Guiying Du is a PhD candidate  working on the GEO-C project  in Institute of Geoinformatics ,University of Muenster. Her research interest  is public displays as integrators of open cities.She started to work for the GEO-C project from Sept 2015. Before came to Germany she worked as a Database Engineer in NavInfo co,Ltd,Beijing(China).She got her master degree in Geographical Information System from Wuhan University (China) in 06.2012.
(PhD student)
(PhD student)
(Postdoctoral researcher)
Using and Adapting Open Data for Different Type of Users
Show abstract
Facilitating map-based collaborative information assessment in disaster scenarios
Show abstract
Currently 50% of the world population live in urban centers and it is expected to rise to 75% by 2050. This implies a large number of new inhabitants arriving to new urban territories that are in several cases unknown for them. However, the understanding of the new urban context it is necessary to realize the cities dynamics and projects by this group of citizens; also, it can help increasing their awareness in several decision-making processes.
This research aims to understand the aspects hindering Open Geospatial Information understandability by new inhabitants (refugees, rural migrant population, among others) and to create guidelines and tools to address such aspects within the context of participatory urban planning processes.
Recent history shows an increasing number of disasters around the world with increasing losses of human life and in economy. At the same time the disaster management domain experiences a dramatic change due to the proliferation of mobile technology and of social software. Citizens no longer only consume information but also massively provide and exchange information in a decentralized way. Citizens became an information source and are capable of organizing themselves.
However a full integration of citizen-originated information into official structures has not yet been established. Holger Fritze focuses on natural disaster and explores new ways to fully integrate the citizens as information stakeholder. He tries to answer the research question 'How can map-based collaboration and interaction with non-authoritative data support information assessment for improved situational awareness?'
Maps and geo-visualizations play a central role in this domain and are used as primary tool for information visualization. New ways of enabling map for means of communication will be explored. Holger's vision is to enable disaster managers for a seamless collaboration and interaction with in advance unbeknown volunteers.
Holger Fritze is a research associate at the Institute for Geoinformatics (ifgi) at the University of Münster and works in the Situated Computing Lab. Christian Kray supervises his PhD on 'Facilitating map-based collaborative information assessment in disaster scenarios'.
My research is about combining geo-information from different sensors / sensor-types to create an additional value, that cannot be extracted from the information sources individually. The major focus is on the real-time characteristics regarding data-handling, analysis and the fusion process itself. In this context, challenges accompanied by Big Data or rather Big Geo Data are investigated.
One side aspect that I have been studying is crowdsourcing, i.e. in particular different techniques and methods to generate valuable geo-information as well as the degree of complexity within crowdsourcing tasks.
Most of my applied work is dealing with real-time monitoring of crowd dynamics during major events (like music festivals or similar). The goal is to exploit and utilise geo-information fusion to extract crucial crowd parameters, e.g. for modelling / simulation or guidance systems.
(PhD student)
(Student assistant)
(Student assistant)
Open access is not only a form of publishing such that research papers become available to the large public free of charge, it also refers to a trend in science that the act of doing research becomes more open and transparent. Collected or generated research data as well as procedures are published alongside a research paper.
Increasingly, scientific results are generated by numerical manipulation of data that were already collected, and may involve simulation experiments that are entirely carried out computationally. Reproducibility of research findings, the ability to repeat experimental procedures and confirm previously found results, is at the heart of the scientific method. As opposed to the collection of experimental data in labs or nature, computational experiments lend themselves very well for reproduction. Some of the reasons why scientists do not publish data and computational procedures that allow reproduction will be hard to change, e.g. privacy concerns in the data, fear for embarrassment or of losing a competitive advantage. Others reasons however involve technical aspects, and include the lack of standard procedures to publish such information and the lack of benefits after publishing them. We aim to resolve these two technical aspects.
We propose a system that supports the evolution of scientific publications from static papers into dynamic, executable research documents and aim for the main aspects of open access: improving the exchange of, facilitating productive access to, and simplifying reuse of research results that are published over the internet.
Building on existing open standards and software, this project develops standards and tools for executable resarch documents, and will demonstrate and evaluate these, initially focusing on the geosciences domains. Building on recent advances in mainstream IT, o2r envisions a new architecture for storing, executing and interacting with the original analysis environment alongside the corresponding research data and manuscript. o2r bridges the gaps between long-term archiving, practical geoscientific research, and publication media.
(Head of the Lab)
(PhD student)
(PhD student)
Adapting Navigation Support to Positional Information of Varying Quality
Show abstract
Navigation systems, whether it is in-vehicle, pedestrian or other type are highly dependent on positional information. The current position of the user has to be known to the system with a considerable level of accuracy in order to provide the user with effective route instructions. These location data come from various sensors such as Global Navigation Satellite Systems (GNSS), WiFi, IR and RFID where GPS plays a major role in outdoor navigation. Positional information obtained through these sensor measurements are of variable quality due to different factors such as environmental conditions, signal blockages and other interferences. Handling these unpredictable variances is a challenging yet a crucial task in delivering reliable and robust navigation support.
Basically, there are three ways to approach this problem. First, accuracy and the precision of sensor data can be improved at sensor level. Second, the measurements obtained from sensor data can be improved for example by removing low quality readings or by calculating the position by fusing readings from multiple sensors. Third, systems can be designed in an adaptive manner to dynamically change its mode of position determination and interface based on the level of quality of available sensor data. While first and the second types of solutions are yet to come, it is equally important to find new ways of adapting navigation support to the inevitable fluctuations of the quality of positional information using available infrastructure. Thus, Champika's research focuses on the third approach in the context of pedestrian navigation systems. In addition, information about user's current context plays a major role in providing adaptive navigation support and helps to optimize interaction between the user and the system. Therefore, she also looks at the relevant contextual factors, how they affect navigation experience and how they could be used to improve navigation support adaptively to provide a better experience to the user.
Deictics plays a major role in everyday communication. Words like "this" and "that" are some of the most used in English. However, deictics is not limited to language; the gestures we perform for supporting verbal communication are also part of it. Nonetheless, this deictic information present in gestures is lost in a remote communication scenario such as common as a telephone call.
This research aims to understand deictic gestures and extract spatial information present in them, in order to propose a technological approach for supporting the remote communication process and solving the present gap in it.
(Postdoctoral researcher)
(External PhD student)
(Student researcher)
Running is a popular activity for reasons of health, fun or socializing. Just as popular are the available applications for the runners' devices. Applications for the runner's phone, watch, or head-up display include heart rate- and pace monitors, navigators or exercise games.
However, the runner's motion and strong association with the running activity make the user interface design a particularly delicate issue as it can have strong effects on the runner. For example, using certain applications while running may help to keep the runner motivated, but may also break the runner's flow. Despite the effects that using applications can have on the runner, little is known about how such usage affects the running motion. This research, consequently, investigates the relationship between user interfaces and the runner's motion.
The goal of this research is to support future research, design and development of user interfaces for runners by deepening the understanding of the effects of using computer devices on the runner's motion. Methods to achieve this goal include kinematic analysis under different conditions (i.e. normal vs. affected running motion) and asking the runner about the effort required for particular interaction methods or how the enjoyment of running is affected.
The findings will result in metrics, models, and evaluation methods that will enable designers and developers to compare the influences of different interaction methods on the runner's motion and predict the limits of particular interaction methods.
Former team members
Sabrina Breda
(Erasmus internship)
Tobias Brüggentisch
(Student assistant)
Ioannis Delikostidis
(Postdoctoral researcher)
Dr. Thore Fechner
(was dual track PhD student)
Nemanja Kostic
(Student assistant)
Roberta Martella
(Erasmus internship)
Dr. Morin Ostkamp
(was PhD student)
Nicholas Schiestel
(Student assistant)
Georg Tschorn
(Research associate)
Dennis Wilhelm
(Student assistant)