Team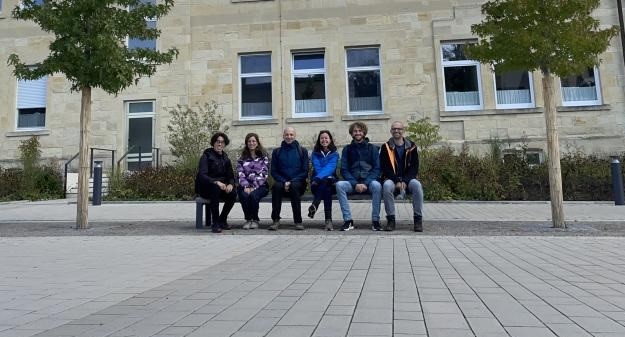 Current Members:


Prof. Dr. Christian Kray

Head of the lab

Chris' research covers a broad range of topics in geoinformatics that relate to interaction with and through spatial concepts (e.g. using proximity regions around devices to trigger certain actions). He is particularly interested in smart cities, location-based services and supporting participation and collaboration on topics that have a strong spatial component (such as urban planning). He holds a PhD in Computer Science from Saarland University and worked as a postdoctoral researcher at Lancaster University. Prior to coming to ifgi, he was a senior lecturer at the Computing Department at Newcastle University, UK.


Eftychia Koukouraki

PhD Student

After graduating from the Erasmus Mundus Masters in Geospatial Technologies, Eftychia joined the SITCOM lab as a Research Associate and PhD student. She is part of O2R project and her research mainly focuses on how to make Science more open and easily reproducible. Before joining the exciting field of Geoinformatics, she worked in the industry as a Software Engineer and she also holds a Diploma in Electrical and Computer Engineering.


Sven Heitmann

PhD student

Sven is part of the SIMPORT project. His research focuses on developing tools for educating users on location privacy as well as the risks and benefits associated with sharing location information. With his work, he tries to bridge the gap between perceived and actual location privacy. He holds a MSc in Geoinformatics and has worked in industry as a mobile application developer and makeshift robotics engineer for four years.


Dr. Tessio Nowack

Postdoctoral researcher

Before joining the Situated Computing Lab, Tessio was a postdoctoral researcher at the GIScience Research Group from Heidelberg University (Germany) and Assistant Professor in Urban Analytics at the Centre for Interdisciplinary Methodologies, University of Warwick (United Kingdom). His research focuses on ways emerging digital data, computational methods, and Geographic Information Systems can be combined for grasping and representing alternative perceptions of the urban space and, ultimately, advancing positive social changes.


Dr. Simge Özdal Oktay

Postdoctoral researcher

Simge graduated from City and Regional Planning and pursued her Master and Ph.D. studies on urban design and sustainability assessment at the Mimar SInan Fine Arts University. After her Ph.D., she worked as a PostDoc at TU Vienna and ran the Co-Solution project which aimed to combine technological advancements with collective and sustainable design. Currently, she is part of the SIMPORT project and continues to explore innovative solutions in GIS and urban planning domains.


René Unrau

Dual-track PhD student

René is a dual-track Ph.D. student since October 2017. He received his Masters in Geoinformatics from the University of Münster in 2016 and works as a software engineer at esri in Vienna, Austria. His research interests are usability evaluation methods for WebGIS and Visual Analytics. He is especially interested in remote evaluation approaches as well as tools for visually investigating map interaction data.


Noko Kuratomo

PhD student

Noko received M.E., from College of Engineering Systems, University of Tsukuba at 2021. He is a Ph.D. student in Intelligent and Mechanical Interaction Systems, University of Tsukuba, and works as JSPS Research Fellow(DC1). Besides, he is a visiting researcher in the sitcom lab and researching an auditory display. His research interests include human-computer interaction and spatial design.
Alumni: ordered temporally
Former Employees
Dr. Holger Fritze (former PhD student)
Dr. Samuel Navas Medrano (Postdoctoral researcher)
Dr. Markus Konkol (Postdoctoral researcher)
Dr. Auriol Degbelo (Postdoctoral researcher)
Dr. Max Pfeiffer (Postdoctoral researcher)
Dr. Florian Hillen (Postdoctoral researcher)
Dr. Ioannis Delikostidis (Postdoctoral researcher)
Matthias Seuter (former PhD student)
Dr. Champika Manel (former PhD student)
Dr. Guiying Du (former PhD student)
Dr. Mehrnaz Ataei (former Phd student)
Dr. Ana María Bustamante Duarte (former Phd student)
Dr. Morin Ostkamp (former PhD student)
Dr. Thore Fechner (former dual track PhD student)
Former student assistants
Norwin Roose (Student assistant)
Paula Scharf (Student assistant)
Nemanja Kostic (Student assistant)
Torben Kraft (Student assistant)
Timm Kühnel (Student assistant)
Niklas Philippi (Student assistant)
Nicholas Schiestel (Student assistant)
Georg Tschorn (Research associate)
Dennis Wilhelm (Student assistant)
Jonas Wissing (Student assistant)
Tobias Brüggentisch (Student assistant)
Sabrina Breda (Erasmus internship)
Roberta Martella (Erasmus internship)