A Kolleg moves
The new rooms in the Iduna building offer plenty of space and a magnificent view
by Lennart Pieper
Shouts echo through the long corridors, the two lifts are in constant use, and there is hustle and bustle everywhere. But Kolleg assistant Nadine Zielinski has everything under control and can ensure that each and every box ends up in the right office. When an entire Kolleg moves, and especially so when it moves from different locations, what are needed are organisational skills and meticulous planning. At the beginning of October, the time has finally come: the Käte Hamburger Kolleg can move into its new premises in the Iduna building at Servatiiplatz.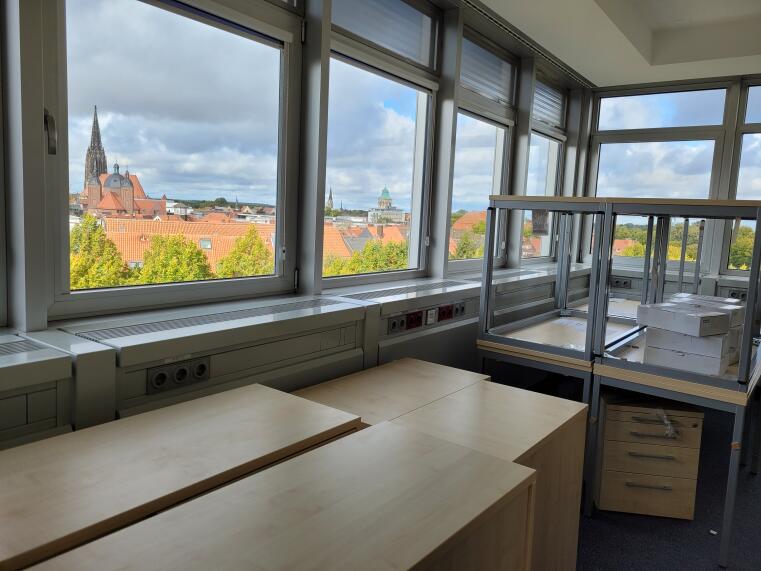 A special place
The eleven-storey Iduna high-rise has dominated Münster's skyline since 1961. As a particularly uncompromising example of the international style of post-war modernism, it is now a listed building. Its strictly geometric façade makes it stand out from the historic city centre that it adjoins. Built by the Iduna insurance company, the building is now home to law firms, businesses, and a language school. The University began renting three floors in 2022, and converted them in line with how the new occupiers wanted them.
The Käte Hamburger Kolleg now occupies the entire sixth and seventh floors, which provide staff and fellows with spectacular views over the city. Visitors often stand long at the windows, looking for familiar landmarks and enjoying the view. "Look, there's the Buddenturm over there!" – "I didn't realise how high the Kreuzkirche is" – "Are those the Baumberge on the horizon?"
Settled at last
Having spent its initial phase at two separate locations, the Kolleg can now finally settle in. As a place of joint research and discussion, it thrives on being able to bring people together. After all, part of the idea behind the Käte Hamburger Kollegs, which are funded by the Federal Ministry of Education and Research (BMBF), is to offer their fellows not only time to pursue their own research, but also a stimulating environment. "The fact that we have been in the same place since October makes an enormous difference", says Kolleg director Ulrike Ludwig. "We no longer have to organise meetings; they simply happen".
So, going to the kitchen on the seventh floor during the busy lunch hour or having a coffee in the spacious lounge always brings people together for informal conversations. The Wednesday Teatime, where all fellows and Kolleg members gather, has even inspired some to bake cakes. And workshops and other such events can now also take place in their own seminar rooms, which makes things much easier for everybody. There are also the regular Reading Sessions in a large group, as well as other – often spontaneous – meetings of various working groups.
Everyone clearly feels at home in the new building, and there is great enthusiasm at the new momentum that the Kolleg has been given by the move. All the hard work has paid off!