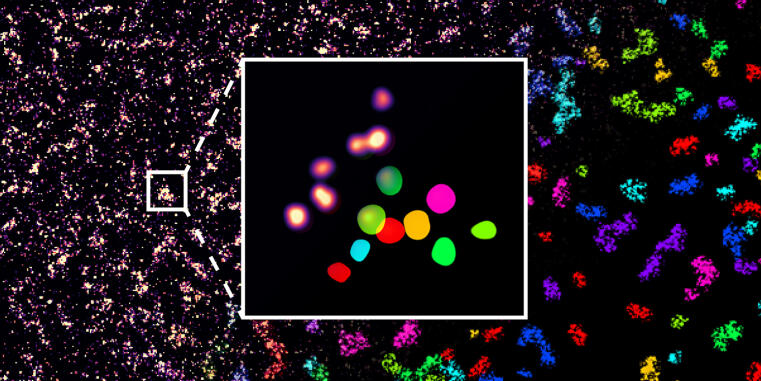 Optimized microscopy method enables single molecule detection under native conditions
WWU researchers optimize super-resolution microscopy application for single molecule detection / Study published as cover story in ChemBioChem
The development of super-resolution microscopy, which was awarded the Nobel Prize in 2014, allows the analysis of cell biological processes with a precision of a few nanometers, making it even possible to differentiate between individual molecules within cells. One limitation of virtually all single-molecule resolved super-resolution approaches, however, is that the target molecules have to be genetically modified to allow precise measurements. Researchers at the WWU Münster have now optimized a protein labeling process so that native, unmodified proteins can be visualized and quantified with molecular resolution in their natural environment.
Background and method
High-resolution microscopy is typically based upon a procedure, in which a transient interaction between a fluorescent probe and the target molecule produces an isolated blinking signal that can be used to calculate its precise localization. For this purpose, however, the molecule of interest is usually genetically modified. For example, DNA-PAINT is based on the fact that a DNA binding site is attached to the target protein, to which a complementary fluorescent DNA strand can bind for detection. Other high-resolution microscopy methods use modifications by fluorescent proteins. Since such genetic modifications are undesirable in many applications and sometimes not even possible, new methods for the detection of unmodified, endogenous proteins are needed.
Lisa Fischer, PhD student in Prof. Carsten Grashoff's group, has therefore developed a procedure called Direct Peptide-PAINT, with which a central cell adhesion protein, Talin, can be labeled by a fluorescent interaction peptide. The first application did not only reveal the molecular distribution of this molecule in differentiating stem cells, it also allowed the first visualization of individual Talin proteins in tissue sections. The new method should therefore allow the investigation of adhesion processes under pathophysiological relevant conditions. The researchers expect that the new technique will be useful to obtain important, molecular insights into disorders that are based on dysfunctional cell adhesion.
Funding
The work was funded by the Deutsche Forschungsgemeinschaft (DFG) and the Human Frontier Science Program.
Original publication
Lisa S. Fischer, Thomas Schlichthaerle, Anna Chrostek-Grashoff, and Carsten Grashoff. Peptide-PAINT Enables Investigation of Endogenous Talin with Molecular Scale Resolution in Cells and Tissues. DOI: 10.1002/cbic.202100301