Transferschool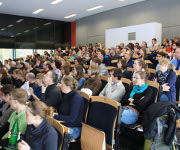 The Innovation Office offers a broad range of courses in the areas of research transfer, creativity, patents, entrepreneurship and soft skills. Our courses are targeted at students and researchers of all faculties at the University of Münster, as well as course auditors. In 2008, the Innovation Office began offering seminars and workshops as part of the General Studies programme for bachelor's students. Cutting-edge media always plays a key role in these courses, as instructors integrate various elements of e-learning v-casts, podcasts and Web 2.0 content into the curriculum.
The goal is to anchor the occasionally "unwieldy" topics of business start-ups, patents, property rights and science communication into academic programmes and promote greater familiarity with transfer-related subjects at the interdisciplinary level. The courses give students a head start in actively engaging in complex innovation systems in business and society, and at the same time, introduce them to new possibilities for applying their academic-theoretical education.
The Innovation Office Transfer Academy offers students and researchers the chance to gain extracurricular and practical knowledge in a very short time.