Bachelor's Degree (2 Subjects) - Islamic Theology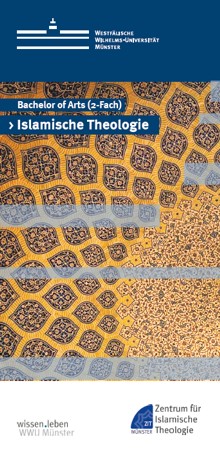 Flyer
The bachelor's degree course "Islamic theology" with two subjects approaches the religion of Islam in an academically sound manner. This type of degree course allows students to combine skills acquired within the framework of the degree course "Islamic theology" with skills acquired during the study of one additional subject (2-subject bachelor). The learning of the Arabic language forms a fundamental part of the study of Islamic theology. This allows students to access the original written Arabic sources.
Studieninhalte

The course centres on the following classical theological research disciplines:
Science of Qur'ān (ʿulūm al-qurʾān)
Qur'ānic exegesis (tafsīr)
Hadith (ʿulūm al-ḥadīṯ)
Biography of the Prophet (sīra)
Systematic Islamic theology (kalām)
Islamic law and jurisprudence (fiqh and uṣūl al-fiqh)
Islamic history
Islamic theology and Islamic religious practice
Enrolment for the bachelor's degree course "Islamic Theology" with two subjects is only possible in combination with another 2-subject degree course. Further information is available from Münster University's student office (Studierendensekretariat).

The bachelor's degree course takes six semesters, with a total of 75 credit points, and is completed with a bachelor's thesis in one of the two subjects. By obtaining a bachelor's degree in this discipline, students fulfil the entry requirements for master's degree courses in Islamic theology.