Bachelor's Degree (1 Subject) - Islamic Theology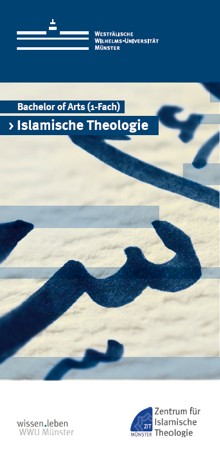 Flyer
The bachelor's degree course in Islamic theology addresses the religion of Islam in an academic and inner-theological manner. Intensive Arabic language studies form the foundation needed for textual analyses and will be taught throughout the degree. In addition, students study one other language relevant to Islam.
The course centres on the following classical theological research disciplines:
Science of Qur'ān (ʿulūm al-qurʾān)
Qur'ānic exegesis (tafsīr)
Hadith (ʿulūm al-ḥadīṯ)
Biography of the Prophet (sīra)
Systematic Islamic theology (kalām)
Islamic law and jurisprudence (fiqh and uṣūl al-fiqh)
Islamic philosophy, ethics and mysticism
Other main areas are:
History and culture of the Islamic world
European philosophy and history of ideas
Comparative Islamic theology
Empirical research of Islam
Other religions and theological approaches
In addition, CIT Münster offers various classes and lectures, allowing students to discover inter-disciplinary research approaches.

Candidates must hold a university entrance qualification (graduation from a secondary school establishment or equivalent school leaving qualification). University or university of applied sciences graduates may also study (again) at a university.
Prospective students from abroad must show evidence of a university entrance qualification or equivalent school leaving certificate. They must also show evidence of proficiency in German. Further information is available from Münster University's student office (Studierendensekretariat).

It is one of the degree course's main objectives to train young Muslim researchers who will go on to work as experts of Islamic theology, in Islamic religious pedagogy, and in community work and education, meeting demands in this sector.

Graduates of the bachelor's degree with 1 subject gain access to a wide range of professions:
Research and teaching
Mosques
Islamic chaplaincy
Work for associations and organisations
Integration work and work with migrant families
Culture management
Further education
Consulting activities
In this context, the following subject areas are covered:
Islamic religious education
Approaches to Islamic studies
European cultural history and political education
Religious sociology and psychology of religion
The bachelor's degree course takes six semesters, with a total of 180 credit points, and is completed with a bachelor's thesis. By obtaining a bachelor's degree in this discipline, students fulfil the entry requirements for master's degree courses in Islamic theology.