NRW Certificate "Professional Teaching Competence for the University"
The Center for Teaching in Higher Education (ZHL) offers instructors of the University of Münster the opportunity to gain a substantiated, university-didactic qualification. The qualification programme "Professional Teaching Competence for the University" is based on principles put forth by the German Association for Educational and Academic Staff Development in Higher Education (dghd) and the NRW Network for Higher Education Didactics. The programme teaches participants the key skills which are required for university-level teaching. These enable instructors to:
teach subject matter in a manner conducive to learning
transparently assess students' skills with a focus on learning goals
provide students with constructive academic advice
evaluate courses
continue to innovatively develop one's teaching methods
The NRW Certificate consists of three modules (see below) which build on one another, comprising a total of 200 work units (1 work unit equals 45 minutes). Participants are free to select modules in whatever order best suits their individual needs. Furthermore, confirmation of participation is provided for each completed course so that as you continue your professional training you can decide at any time whether you wish to obtain the certificate. 
If you have any questions about the certificate, please contact zhl@uni-muenster.de.
Basis module
The basis modules teach the fundamentals of higher education didactics. For early-career instructors, we recommend starting with the two basic courses "Teaching and learning" and "Understanding one's role and communication".
Extension module
The extension modules explore the topics addressed in the basic modules in further depth. They also examine (subject-)specific topics related to university teaching and the thematic areas of "Testing", "Advising" and "Evaluating".
Specialisation module
The specialisation modules provide an opportunity to gain qualification in areas which apply more specifically to one's interests. The instructors are allowed to intensively explore a university-didactic topic of their own choosing. The course focuses on developing, conducting, evaluating and documenting an innovative course.
Each module consists of 60–80 work units.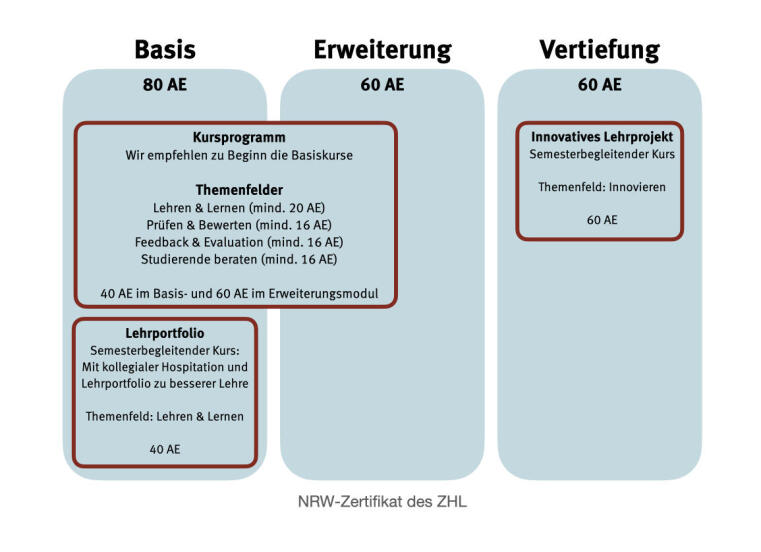 The certificate "Professional Teaching Competence for the University" is recognised at all participating higher education institutions in the state of North-Rhine Westphalia. Courses completed at other network-affiliated universities are recognised with respect to their level and scope. Please contact us if you have completed higher education didactic activities through non-university providers (e.g. freelance university didactics experts, private university didactic institutes). According to NRW-wide regulations, we can recognise up to 16 work units of such activities.
For more information about the certificate and the NRW Network for Higher Education Didactics, visit: https://hd-nrw.de/.