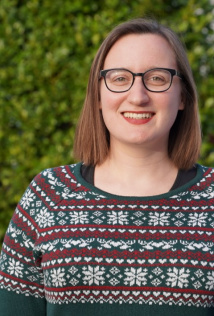 Participation in the Cluster of Excellence
Research Areas

Postcolonial & Gender Studies
Discourse analysis
Value Conflicts
African Studies (East Africa/Tanzania)

Doctoral Thesis

Discourses on Gender, Sexuality and Family in the Evangelical Lutheran Church of Tanzania

Supervisor

Professor Dr. Ulrich Willems

CV

Education

-

M.A. Political Science at the Freie Universität Berlin

-

Awarded Scholarships: German Academic Scholarship Foundation and the Protestant Academic Foundation "Evangelisches Studienwerk Villigst"

-

B.A. Governance and Public Policy at the University of Passau

Positions

since

Research assistant at the Cluster of Excellence "Religion and Politics" at the WWU Münster

-

Research Assistant at the Institut für Kirche und Gesellschaft (Institute for Church and Society

-

Research Assistant at the Department of Modern European History at the Fernuniversität Hagen

External functions

since

Member of the working group 'Religion and Gender' at the 'Deutsche Vereinigung für Religionswissenschaft'

-

Member of the Board of Directors at the Cluster of Excellence 'Religion and Politics' as elected spokesperson of the Doctoral Programme

Publications

Articles

Research articles (journals)

.

. "Das diskursive Erbe deutscher protestantischer Missionare in Debatten um Homosexualität in der Lutherischen Kirche Tansanias: "Volksgewissen" oder "Teufelssittlichkeit"?" Revue d'Allemagne et des pays de langue allemande 53, No. 2: 485–501. doi: 10.4000/allemagne.2879.

Research articles (Book Contributions)

In

Integration im Sozialraum,

herausgegeben von

, 401–17. Wiesbaden: VS Verlag für Sozialwissenschaften.
. "'Engagiert in Vielfalt' – Ehrenamtliches Engagement in der Flüchtlingshilfe Nordrhein-Westfalens."

Other Scientific Publications

Talks

Weber, Charlotte (): 'Performing Moral Authority - The Tanzanian Lutheran Church as a Political Actor in Discourses on Homosexuality'. European Conference on Politics and Gender (European Consortium for Political Research - Standing Group on Gender and Politics), University of Ljubljana, .
Weber, Charlotte (): '"These days, we should send our missionaries to Europe" - Tanzanian Lutheran Counter Narratives to Homonationalism'. 11th European Feminist Research Conference (ATGENDER – The European Association for Gender Research, Education and Documentation), University of Milano-Bicocca, .
Weber, Charlotte (): 'Stuck in the Middle - Relationality in the Lutheran Tanzanian Position on Homosexuality'. XXXIV. Jahrestagung der Deutschen Vereinigung für Religionswissenschaft. Panel '(Post)Secular Africa?' , Leipzig (Digital), .
Weber, Charlotte (): "10 Years After the 'Dodoma Statement': Religion, Gender and Nation in Discourses on Homosexuality in the Lutheran Church of Tanzania". (Ge)Schlechte(r) Religionswissenschaft!? Multidisziplinäre Ansätze einer kritischen Genderforschung zu Religion. Gründungstagung des Arbeitskreises Gender und Religion (DVRW) (AK Gender der DVRW), Ruhr-Universität Bochum, .