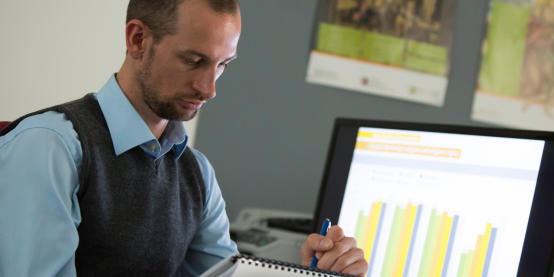 Graduate School
The Cluster of Excellence "Religion and Politics" maintains a Graduate School for the promotion of junior researchers and of the unity of research and teaching. The school has been offering doctoral students from the humanities and the social sciences an interdisciplinary Doctoral Studies Programme since 2007. The programme supports focused and structured doctoral studies on a topic from the conflicting interests of religion and politics. It offers junior researches the independent participation in interdisciplinary research.
During the Cluster of Excellence's first funding phase from 2007 to 2012, 47 doctoral students completed the Doctoral Studies Programme in the Graduate School. They found subsequent employment with other universities and research institutions and in publishing houses, schools, government departments, church institutions and libraries.
Since the winter semester 2013-2014, the Graduate School has commenced the Doctoral Studies Programme for the second funding stage of the research association. It offers junior researchers again the opportunity of focused and structured doctoral studies in an interdisciplinary context of research. 
Four mentors from different disciplines have taken on the scientific management of the Graduate School and of mentoring the doctoral candidates. Professors of the Cluster of Excellence supervise the doctoral theses.
The central coordination office is responsible for the organisation of the Graduate School. The interdisciplinary Doctoral Studies Programme is geared to the Cluster of Excellence's four fields of research: normativity, mediality, integration and violence. It is designed to train researchers in the traditions and requirements of their own academic discipline, at the same time also broadening their perspectives beyond the boundaries of subjects and departments.