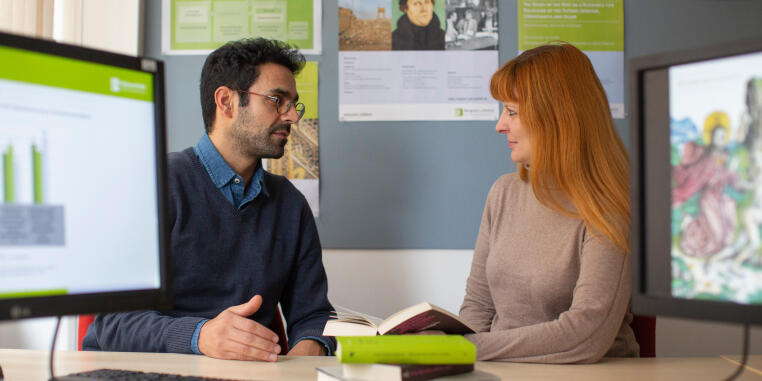 Equal opportunities and diversity
The Cluster of Excellence is committed to the equality of all people regardless of origin, gender and age, sexual orientation, and physical and psychological disability. The research theme "Religion and Politics" itself demands and promotes a particular sensitivity for different religious and other worldviews.
The Diversity Management of the Cluster of Excellence creates a scholarly environment that recognizes the diversity of its researchers and promotes their different potentials. The Commission for Equal Opportunities and Diversity develops measures to promote equal opportunities and combat discrimination at work, and acts as a point of contact should conflicts arise. It works closely with the equal opportunities officers of the participating departments and of the University of Münster.
Relevant workshops and regular discussions on diversity are aimed at achieving equal opportunities for members of the Cluster, and at reducing discrimination. The research theme "Religion and Politics" can also contribute to improving equal opportunities in society by raising awareness of cultural diversity and of different religious and other worldviews. The Cluster also contributes to current socio-political debates through the transfer of research findings on the integration of religious diversity and on the link between religion, politics and gender inequality.
The University of Münster's Staff Development concept supports the Cluster of Excellence in Diversity Management by seeking to optimize the framework conditions for academic career opportunities, with the University paying particular attention to the central issues of equal opportunities, reconciling work and family life, health management, and internationalization.