Religion and Violence
Public lecture series on the role of Christianity, Islam and Judaism in conflicts
From the beginning of April onwards, the relationship between religion and violence will take centre stage in the public lecture series of the cluster of excellence "Religion and Politics" of Münster University. The Christian churches took part in acts of violence until the twentieth century, or at least did not prevent them, said the historian and speaker of the cluster Prof. Dr. Gerd Althoff in Münster on Monday. He named the Spanish Civil War and military dictatorships in South America as examples. Today, Christianity was "past its most violent stages". The historian emphasised, however, that there have always been setbacks in history and said that the lecture series was to show the audience the historical changes and encourage reflection.

In other religions, too, pacific and fundamentalist, violence-prone movements stand side by side, according to Althoff. This plurality will be reflected in the lecture series, said the medieval historian. "We will compare how Christianity dealt with violence with how Judaism, Islam and the religions of Antiquity did." For example, Islamic studies scholar Prof. Dr. Marco Schöller will describe the diverse forms of jihad, Jewish studies scholar Prof. Dr. Regina Grundmann will talk about Jewish-Christian forced disputations. Altogether, the fourteen lectures will highlight "Experience from three millennia of monotheism", as the series' subtitle states. Prof. Althoff organised it together with modern historian Prof. Dr. Silke Hensel.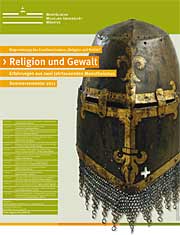 The lectures will investigate the historical conditions under which religions develop their potential for peace and when religions justify or propagate the use of violence with their holy scriptures or even hold out the prospect of spiritual reward for it. "Conflicts have often been religiously and ethnically embellished", Prof. Althoff explained. At the same time, however, religions also had the potential for peace: "The early Church, for example, was virtually pacifistic and later, there were also repeated movements that built on the Apostolic Age."

Representatives of various disciplines will again be given the opportunity to speak, such as historians and theologians or scholars in German and Religious Studies. On April 5th, church historian Prof. Dr. Arnold Angenendt will open the series with a lecture on "Sin and rage against God as sources of religious violence". The renowned Egyptologist and religious scholar living in Heidelberg and Constance, Prof. Dr. Jan Assmann, will talk about the "Origin and nature of religious violence" in the following week. On April 19th, Prof. Althoff will give a lecture on "Reforming papacy and the violence in the Middle Ages". More topics and contributors can be found in the programme below. An especially large number of younger scholars from the cluster of excellence will play a part this time.

The lectures, each followed by a discussion, will take place on Tuesdays at 6.15 p.m. in lecture theatre F2 of the Fürstenberghaus at Domplatz 20-22. The lecture series originates in the cluster of excellence's field of research of "Violence". It forms part of the series "Dialoge zum Frieden" (dialogues on peace), for which the cluster of excellence works together with the city of Münster within the scope of the "Allianz für Wissenschaft" (academic alliance). Prof. Dr. Franz-Josef Jakobi, the former head of the municipal archive of Münster and currently president of the research group "Peace of Westphalia", will give a welcoming speech at the opening in place of Lord Mayor Markus Lewe. Students can get credits for the lecture series. (arn/vvm)
Programme
05.04.2011
Arnold Angenendt (Münster)
Sin and rage against God as sources of religious violence
 
12.04.2011
Jan Assmann (Heidelberg/Constance)
On the origin and nature of religious violence
 
19.04.2011
Gerd Althoff (Münster)
Enforcing the good. Reforming papacy and the violence in the Middle Ages
 
26.04.2011
Johannes Schnocks (Münster)
Heroes and saints. The model of the Maccabees and the legitimation of violence in the Middle Ages
 
03.05.2011
Marco Schöller (Münster)
Powerful eloquence, fighting and salvation: why there is not the one jihad
 
10.05.2011
Thomas Lentes (Münster)
With invisible weapons against visible enemies. War and liturgy in the Middle Ages
 
17.05.2011
Rüdiger Schmitt (Münster)
"Yr sollet euch nit erbarmen ..." (Ye shall not have mercy ...). Biblical legitimation of religious violence with Thomas Müntzer
 
24.05.2011
Andreas Pietsch (Münster)
Defenceless for Christ's sake. On the delegitimisation of violence in Anabaptism
 
31.05.2011
Matthias Pohlig (Münster)
Religious violence in the confessional age?
 
07.06.2011
Regina Grundmann (Münster)
Christian-Jewish forced disputations
 
21.06.2011
Gianmaria Zamagni (Münster)
"God bless you!" The legitimation of physical violence in the Spanish Civil War
 
28.06.2011
Stephan Ruderer (Münster)
With God's help? The military dictatorships in Argentina and Chile and the Catholic Church
 
05.07.2011
Martina Wagner-Egelhaaf (Münster)
"... und steuere deiner Feinde Mord" (... and direct your enemies' murder). Violence in church songs
 
12.07.2011
Hans-Richard Reuter (Münster)
From "war theology" to peace ethics. On the changing perception of war in German Protestantism over the past 100 years
 
 
Summer semester 2011
Tuesdays 18.15 to 19.45
Lecture Hall F2 of the Fürstenberghaus
Domplatz 20-22
D-48143 Münster