MEET knowledge for the Fraunhofer Research Institution for Battery Cell Production FFB
MEET scientists around Prof. Martin Winter are working together with other leading experts in German battery and production technology from industry and research in the Fraunhofer Research Institution for Battery Cell Production FFB in order to bundle specialist knowledge for Germany as a business location. The MEET team's main areas of expertise in battery cell research production are materials science, battery cell technology and production, production technology and systems, and the value-added cycle of batteries.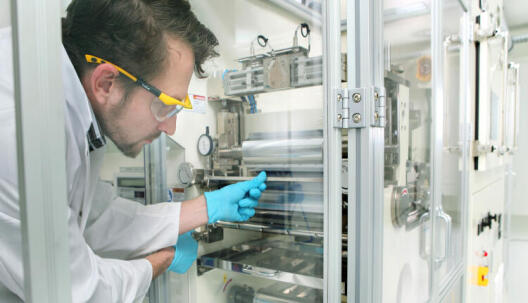 Leading in battery materials research, our international scientific team has outstanding, award-winning expertise in development and analytics. With the successful establishment of two different battery cell production lines, the MEET team has gained extensive experience in battery cell production and systemic cell research. The establishment of a battery line for up to 10 Ah-pouchbag cells laid the foundation for successful battery cell production on a pilot plant scale. Our scientists can thus react very flexibly to different cell chemistries, electrode compositions, layer thicknesses and new developments. Reproducibility, very powerful and durable cells, as well as the possibility to study materials in the research stage with low availability in full cells are special features of MEETs cell production. In numerous research projects, such as the joint project "SafeBatt", funded by the German Federal Ministry of Education and Research, the MEET team has further expanded its knowledge. These competences in the field of cell production are complemented by expertise in the optimization and upscaling of cell production processes. For example, the MEET team is a partner in the production cluster "ProZell" - also funded by the Federal Ministry of Education and Research.
Our scientists contribute further knowledge to the Fraunhofer FFB for the circular economy of batteries: Since 2009, the MEET team has been working intensively on approaches for Recycling and Second Life - i.e. the reuse and recycling of battery cells or their components.