Battery Research for Climate Protection
MEET cooperates with WWF 2° Campus Student Academy
Combined research for climate protection: In mid-July, MEET battery researchers Sven Künne and Jens Wrogemann invited five students to join 2°Campus Student Academy. With numerous live experiments, they examined alternative syntheses routes for graphite from bio waste and its application as anode and cathode material. Currently, graphite is used as anode material in lithium-ion battery, which is produced in an energy-intensive process from oil residues or are mined as natural graphite under environmentally harmful conditions. Additionally, the synthesized graphite was investigated as cathode material in dual-ion batteries. For the tenth time, the nature and environmental protection agency WWF organised the annual series of events, in which twenty 15-19-year-olds across Germany develop ideas and projects together with researchers in order to slow down climate change.
Biowaste as Electrode Material – a Real Alternative?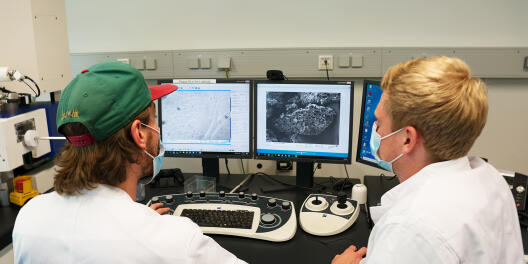 "What effects does graphite obtained from biomass as a electrode material have on the electrochemical performance of lithium-based energy storage systems?" – that was the research question the students planned to tackle together with the battery researchers. In order to find out what effects the use of graphite as a cathode material has on durability, CO2 footprint and other properties compared to a classic lithium-ion battery, numerous methods were used: for example, the pupils looked over the digital shoulders of Sven Künne and Jens Wrogemann during measurements with the X-ray diffractometer, scanning electron microscope, electrode pulling or battery cell construction. Additionally, they calculated the CO2 balance of electric cars compared to combustion engines, were given cinematic insights into battery research and tested their research skills in digital games.
"Graphitisation of biowaste with specific additives at lower temperature and its use as electrode material holds great potential. We are intensively researching different approaches for greener batteries of the future," explains Sven Künne. Jens Wrogemann was enthusiastic about the commitment of the 2°Campus junior researchers: "In almost two intensive weeks, we examined various aspects together, from material synthesis to electrode manufacture and cell construction. The junior researchers will present their results in autumn and then receive their well-deserved 2°Campus diploma."
From September 2021, registration for the WWF Pupils Academy 2° Campus 2022 will be possible on the campaign page [de].