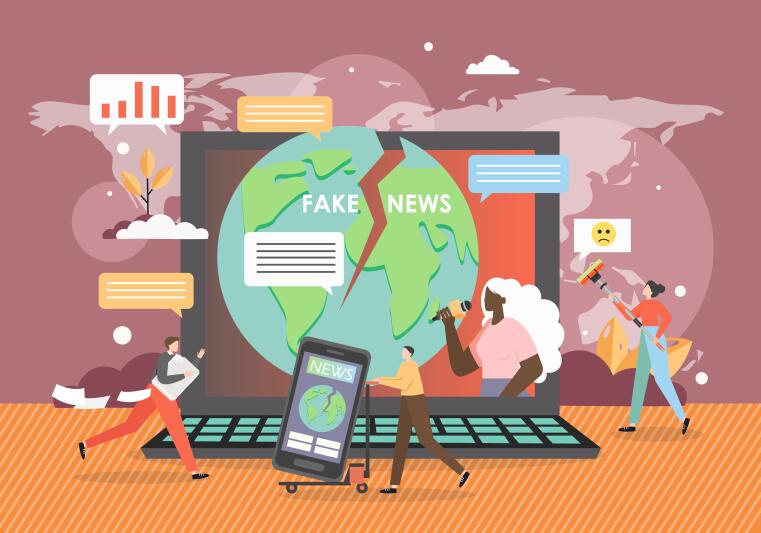 2 million euros for BMBF project "HybriD – Real-Time Detection of Disinformation Campaigns in Online Media" with IfK participation
(11.10.2021) Disinformation campaigns on the net were a major social media topic during the election campaign and are also during the coronavirus period. Central questions are still unresolved: Who is behind them, how do such campaigns work, how can they be identified, distinguished from 'real' news and perhaps combated? These questions are being addressed by a new joint project of the German Federal Ministry of Education and Research (BMBF), in which IfK is also playing a major role. The project "HybriD – real-time detection of disinformation campaigns in online media", worth a total of 2.24 million euros, is supported by the BMFB with almost two million euros. The "Online Communication" group of the Institute of Communication Science, headed by Prof. Dr. Thorsten Quandt, is playing a key role in the project. Other project partners include the Institute for Business Information Systems at the WWU, the Hamburg University of Applied Sciences and complexium GmbH from Berlin. 
In the aligned project, the interdisciplinary research team is pursuing the innovative approach of holistic detection and analysis of hybrid disinformation campaigns – i.e., those manipulations that combine algorithmic logics, fake accounts, and human control. To develop a software-based analysis tool that detects disinformation in real time, the researchers combine advanced machine analysis techniques with human expertise. 
The subproject at the Institute of Communication Science (IfK), led by Prof. Dr. Thorsten Quandt, aims to expand our understanding of the fundamental workings of hybrid disinformation campaigns by exploring their characteristics, forms, and temporal trajectories. Using computational methods from communication science and incorporating expert knowledge, disinformation patterns will be identified and disinformation archetypes defined. In cooperation with the subproject of the Institute of Information Systems and complexium GmbH, the results will be incorporated into the development and evaluation of the analysis tool. 
The real-time analysis of large amounts of data from online media and social networks should ultimately make it possible to identify disinformation campaigns and to understand the disinformation strategies behind them. In addition to expanding basic research on the emergence and spread of hybrid disinformation campaigns, the project will also contribute to the development of concrete solutions by opening up new possibilities for action to design effective countermeasures – which at the same time do not affect the 'normal' flow of news and information in society. 
The German Federal Ministry of Education and Research (BMBF) is funding the joint project as part of the "Research Agile – Detecting and Combating Digital Disinformation Campaigns" funding line. The project duration is three years.