Growth: personal, professional and in practice
A new edition of the annual European doctoral summer school will take place virtually June 14-17, 2021. Focussing on the positive lessons learnt from the pandemic, what we know is that now more than ever there is a need for researchers to communicate, collaborate, to be creative and to have the confidence and self belief to proceed when plans and circumstances change. In this context, the theme for the 2021 European Doctoral Summer School is "Growth: personal, professional and in practice". Working with colleagues from different institutions, culture and values, the sessions will enable you to consider how to maximise your strengths, skills, career prospects and self confidence in the context of change.

Please note: As the event is being held online and the content focus is on personal and professional growth postdocs are also invited to certain elements of the program.

Summer School Program

The registration period for the summer school is over.


Thursday 10 June 2021, 7pm to 8.30pm (CET)
Meet inspiring University of York PhD students and learn how their cutting-edge research is expanding knowledge and understanding of our world and beyond. In a challenge against the clock, competing students each have just three minutes to explain how their ideas can answer the big cultural, economic and scientific questions of our time.

Join us for the final of York's 3 Minute Thesis competition and book your free ticket here.

European Doctoral Summer School 2020
The 2020 European Doctoral Summer School took place online. We aimed to give you the opportunity to dip in and out of four training sessions from the comfort of your own home. The sessions were short, sharp and streamlined to help the participants to digest the content and have time to reflect on their learning. The programme had been designed to support the participants during this time of paradigmatic and social change.
Taken as a package the programme provided an opportunity to develop and enhance presentation and communication skills, which are so important now that we are all holding meetings online. It considered the participants' skill set and how it appeals to employers and funders in this changing environment and supported their future career transitions by developping a CV.
European Doctoral Summer School 2019
The European Doctoral Summer School in Professional Development has been deliberately designed to maximise the opportunity for doctoral
candidates to get to know each other and to engage in workshops where there will be tangible outcomes for each participant. The focus in 2019 was on developing skills of networking, communication and profile development with a view to presenting the best possible version of oneself to funders, employers and industry.
We are so proud of fifteen participating doctoral candidates, who approached pitching, career and entrepreneurship sessions with enormous enthusiasm and a strong sense of purpose. They were brilliant pitching their research in a 3MT style competition on the last day, with our Giulia Marchetti winning the Panel's Choice Award with her persuasive yet humor-filled speech about 'how microalgae can save us from the end of the world.' Another real treat: all delegates met the Lord Mayor of York and Sheriff of York at the Mansion House!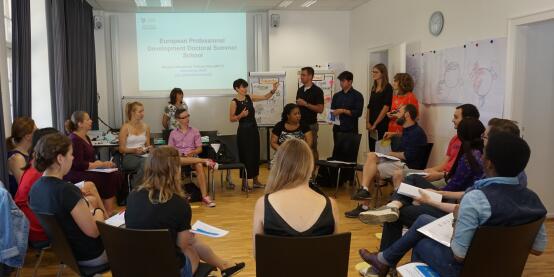 European Doctoral Summer School 2018
The first European Doctoral Summer School run by the Universities of Maastricht, Münster and York took place in June 2018 in Münster, Germany. Fourteen engaged doctoral candidates had the opportunity to take part in workshops, enjoy a vast cultural programme and to network. New friends were made and the foundation for the annual summer schools was laid! Click here to see some impressions University of York has collected.